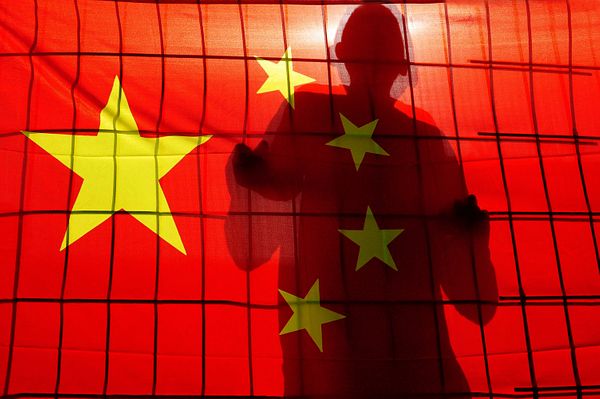 8 Years After '709,' Persecution of Chinese Human Rights Lawyers Continues
Starting on July 9, 2015, the Chinese government launched an unprecedented nationwide crackdown on human rights lawyers. In the following few months, police interrogated and detained over 300 lawyers and paralegal assistants and raided three law firms. Dozens of lawyers and legal assistants and activists were detainedand 15 were eventually convicted.
These lawyers and law firms were some of the few willing to take on sensitive cases related to civil rights, prosecuted human rights defenders, and ethnic minorities.
Now, eight years on, the "709 Crackdown" is not just history. Some of the lawyers who were most closely associated with the 2015 crackdown are facing a renewed wave of targeted repression. Other human rights lawyers are in prison. And more broadly, authorities have continued to persecute and pressure law firms and lawyers as they carry out their work.
Yu Wensheng and Xu Yan
On April 13, human rights lawyer Yu Wensheng and his wife Xu Yan were invited to an event with the EU's Ambassador to China Jorge Toledo Albiñana and an unnamed senior EU official. However, they were taken away while attempting to ride the subway to the event. Yu and Xu were then criminally detained and later formally arrested on the charge of "picking quarrels and provoking trouble."
On May 31, authorities charged Xu with "inciting subversion of state power," and Yu faced this new charge as well. Meanwhile, their 18-year-old son has been in a state of house arrest.
Authorities have consistently blocked lawyers from meeting Yu and Xu in detention. Most recently, Rights Defense Network Reported on June 21 that Shijingshan police in Beijing had denied lawyers' visits to Yu on the pretense that "new criminal charges had been added."
Yu's detention may also be related to his condemnation of the sentencing of Xu Zhiyong and Ding Jiaxi, two prominent pro-democracy figures. On April 12, Yu wrote on Twitter that he had been visited at his home by Shijingshan police for a tweet he had sent out on April 9. The tweet, originally in Chinese, said:
[I] strongly condemn the Chinese authorities' heavy sentence of scholar Xu Zhiyong to 14 years and of lawyer Ding Jiaxi to 12 years! I pay my respects to Xu Zhiyong and Ding Jiaxi, who have worked hard in the struggle for freedom, democracy, human rights, and the rule of law. I believe that one day the dream of a beautiful China will be realized.
Harassment of Other 709 Families
Yu and Xu's detention was not an aberration. The planned meeting with the EU delegation on April 13 appears to have been a catalyst that has spurred an unrelenting campaign of extralegal harassment against other prominent lawyers of the 709 Crackdown.
At the time of the EU visit, other lawyers were put under house arrest, including Wang Yu, the defiant lawyer whose harassment and detention kicked off the 709 Crackdown, and Zhou Shifeng, whose Fengrui law firm became the focal point of the authorities' contention. that a group of lawyers were causing a threat to social stability by "hyping up" sensitive legal cases in 2015.
Since mid-April, activists have experienced egregious harassment.
human rights lawyer Wang Quanzhang, his wife Li Wenzu, and their son have been forcibly evicted from their home and forced to move on several occasions by thugs presumed to be working with government officials. Their Power has been cut off multiple times, and men who refuse to identify themselves constantly wait in the hallway just outside their apartment door. In the most ridiculous example, a friend in the United States rented his apartment to them and made a video to show the signed contract was genuine. Police nevertheless tried to evict Wang and his family on the pretext that he was squatting.
On June 9, human rights lawyer Li Heping, his wife Wang Qiaoling, and their daughter were prevented from leaving the country on a flight to Thailand. Police informed the family that they had been subject to an exit ban because they could "threaten national security." Meanwhile, in May, over a dozen thugs came to the rented home of Li and his family to smash windows and forcibly evict them. Wang told Radio Free Asia, "The landlord [told us] 'If you don't leave, you will be killed,' saying that we have to move out in the next two weeks."
In May, former human rights lawyer Jiang Tianyong, who has been separated from his wife and daughter for 10 years, tried to obtain a passport and permit to travel to Hong Kong and Macao, but in both instances the authorities denied his request for these travel documents.
Human rights lawyers Wang Yu and her husband Bao Longjun have not been subjected to forced evictions, since they own their home, but thugs have constantly harassed them. On April 30, Wang said that while waiting for her mom below her apartment to go to the park, someone threw water down on her from up above. The property management has refused to investigate, despite having many surveillance cameras.
A tweet on May 14 noted that Zhou Shifeng has been under complete surveillance and control by the authorities. At the door of his home and neighborhood, there are hired people to watch him. His phone and WeChat are being monitored. On May 14, Mother's Day, he was prevented from visiting a friend's ailing mother.
On June 22, as China celebrated the Dragon Boat Festival, human rights lawyer Lu Siwei was followed closely and harassed by police while in a vehicle.
Lawyers in Detention
Other human rights lawyers remain in detention centers or are now in prison.
Xieyang was taken away by authorities on January 11, 2022, after he protested in support of Li Tiantian, a teacher in Hunan province who was forcibly put in psychiatric detention. Li was involuntarily committed after she protested in support of a teacher in Shanghai, Song Gengyi, who was fired after she questioned the government's official death toll of the Nanjing Massacre.
Xie has now been criminally detained on the charges of "inciting subversion" and "picking quarrels and provoking trouble."
For over a year, the outside world did not know how Xie Yang was doing, a matter of particular concern given that he eventually gave a detailed account of how he was tortured after being detained in the 709 Crackdown, which the Chinese government Denied as being "fake news."
Xie was finally permitted to see a lawyer on May 17, 2022. He revealed that during 13 days of interrogation, he was – once again – tortured in detention.
Xie said he was beaten on three occasions by police chief Huang Weijia. During this period, the police also limited his food, and would not let him buy food or other items. They did not allow other prisoners to talk to him, in an effort to get him to confess. On August 23, 2022, his case was transferred to the court.
On December 16, Xie requested to see a lawyer, and the detention center claimed they had contacted one, but the lawyer didn't come. Xie protested, and the detention center then chained him up and handcuffed him so that he could not straighten out his body, as a means to torture him. Xie complained about this torture to the procuracy.
Starting from March of 2023, he was transferred to another part of the detention center, where he is being treated like other detainees.
human rights lawyer Li Yuan has been detained without trial for five years and nine months. Her indictment become public for the first time in May. The government charged her with fraud, alleging that her son was not disabled and yet she took "subsistence allowance" payments for his care. The additional charge of "picking quarrels and provoking trouble" relates to allegations that she engaged in "abnormal petitioning" (非全用信颿) to Beijing from 2008 to 2017.
The 65-year-old Li, who is the former lawyer for Wang Yu, has suffered immensely in prison. Her health has deteriorated significantly, in part due to the ill-treatment and lack of adequate medical care that she has endured. She has been denied medical parole on many occasions.
Li's prolonged detention is an egregious miscarriage of justice, especially given the flimsy nature of the charges.
In June, lawyer Chang Weiping was found guilty on the charge of "subversion of state power" and sentenced to 3.5 years in prison, in a verdict announced at the Feng County Detention Center in Baoji city, Shanxi province, where Chang had been detained. Chang was detained after he exposed on YouTube that he had suffered torture when previously detained.
Sustained Pressure on China's Human Rights Lawyers
The harassment, detention, and torture of lawyers occurs as in a broader atmosphere of restricted space for lawyers. As the Chinese Human Rights Defenders (CHRD) noted in a submission to the United Nations Committee on Economic, Social and Cultural Rights, since the 709 Crackdown in 2015, the government has continued to intimidate lawyers and law firms.
According to research compiled by CHRD: 20 human rights lawyers had their law licenses cancelled; four human rights lawyers were unable to renew their law licenses; and four human rights lawyers did not pass the "political appraisal" needed to obtain a law license. Another 18 human rights lawyers were forced to leave their law firms, often due to official pressure on the firm. They were unable to find another law firm willing to hire them due to their previous history of taking on cases that involved human rights abuses.
Thus, in total, the Chinese government has, without any legitimate basis, forced at least 46 lawyers out of law practice since 2015.
In its concluding observationsthe UN Committee noted that "human rights defenders and lawyers working on human rights issues are systematically subjected to prosecution, reprisals and intimidation for their legitimate activities, including by being arbitrarily sentenced to long terms in prison or under house arrest, tortured, [and] subjected to enforced disappearance."
The Committee urged the Chinese government to "refrain from persecuting and prosecuting human rights defenders and lawyers working on human rights issues for broadly defined offenses."