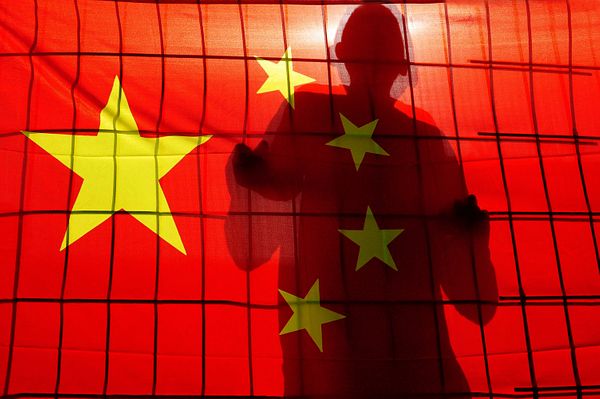 A UN Body Sheds Light on the Fate of Disappeared Uyghurs
A little-known United Nations body, the Working Group on Arbitrary Detention, is helping to shine a light on the extent of China's enforced disappearances in the Xinjiang Uyghur Autonomous Region.
Starting from 2017, Chinese authorities intensified a large-scale campaign of repression that aimed to fundamentally transform the social, cultural, and religious life of this area, which has been traditionally inhabited by Turkic-speaking peoples.
As part of the crackdown, an estimated 900,000 to 1.8 million Uyghurs, Kazakhs, and other predominantly Muslim people were sent involuntarily to high-security camps, which China labeled "vocational education and training centers." Within these camps, torture, harsh interrogation, forced medication, and rape were common, according to research conducted by the U.N.'s Office of the High Commissioner for Human Rights.
The Chinese government says that it ended the camp system in 2019, claiming that those who had been subjected to internment had "graduated" and "found stable employment." While these claims cannot be verified, independent research indeed indicates that the camp system has largely wound down, with some people being released and others being sent to prison.
But alongside the internment camp system, hundreds of thousands of people were sentenced to prison, with the Xinjiang government itself indicating that 540,826 people had been prosecuted in the region from 2017 to 2022. This is a high number in a region that is home to 25.8 million people, 14.9  million of whom are ethnic minorities.
Very little is known about the fates and conditions of the people sentenced to prison during the crackdown. The Chinese government has made it nearly impossible for the outside world to know what is happening on the ground.
That's why some of the recent opinions issued by the U.N. Working Group on Arbitrary Detention (WGAD) are so valuable: they offer a window into the fates of detained people.
The WGAD investigates alleged cases of arbitrary detention throughout the world. It sends urgent appeals and communications to the governments who have reportedly detained people in an arbitrary manner, to which these governments must then respond. Ideally, governments will take action to rectify any human rights violations.
Over the past year, the WGAD has issued opinions on three cases involving Uyghurs, and the information contained in these opinions gives us insights into the fates of those sentenced to long prison terms in Xinjiang.
Crucially, all of the individuals that the WGAD issued opinions about were determined to have been arbitrarily detained and victims of enforced disappearance under international law. The WGAD has called for their immediate release.
But besides finding these Uyghurs to be arbitrarily detained, these U.N. opinions also contain some shocking details.
A Uyghur Cultural Figure Imprisoned For No Reason
One of the cases examined by the WGAD is that of Yalkun Rozi. A Uyghur literary critic who worked on the editorial board for the Uyghur Textbook Department of Xinjiang Education Press from 2001 to 2011, Rozi was sentenced to life in prison in 2018 on the charge of "splitting the State or undermining unity of the country."
Rozi is far from alone. Many Uyghur cultural figures with no history of violent activity have been subjected to unfair trials – and the Chinese government cannot provide even the slightest reason why they were detained in the first place.
As the WGAD notes that in Yalkun Rozi's case, "there is nothing to suggest that Mr. Rozi engaged in or incited violence." The WGAD then essentially called the bluff of the Chinese government's logic in failing to explain how a textbook editor could somehow merit being sentenced to life in prison for having "authored several books that had been in circulation in schools for more than a decade with the full approval of the authorities."
The WGAD also determined that Rozi "was denied appropriate legal assistance during his detention and subsequent trial."
Ultimately, the WGAD concluded, "In the absence of any explanation by the Government as to the reasons for the arrest and detention of Mr. Rozi, or any rebuttal of the very serious allegations presented by the source, the Working Group concludes that the arrest and detention of Mr. Rozi was based on discrimination on the basis of him belonging to the Uyghur minority and belonging to the Muslim faith, in violation of article 2 of the Universal Declaration of Human Rights."
No Evidence Trials Even Took Place
In another shocking finding from the WGAD, there is no proof that some Uyghurs sentenced to prison underwent trials at all.
In another batch of cases assessed by the WGAD, involving three detained Uyghur intellectuals – editor Qurban Mamut, entrepreneur Ekpar Asat, and retired physician Gulshan Abbas – the Chinese government did not respond to the U.N. body with any information whatsoever. Given the lack of public verdicts and no explanation of their detention, the WGAD concluded that "it is unclear if they have indeed stood trial at all."
Also, the WGAD determined that it was highly likely that Asat and Abbas were detained solely for their foreign connections, and not for any internationally recognized crime. The WGAD opinion noted that Asat's detention may have been related to his having taken part in the U.S. State Department's International Visitor Leadership Program in 2014. This is plausible since having connections overseas or having merely traveled overseas was a criteria the Chinese government used in deciding to detain Uyghurs during this period.
The opinion also notes that it is alleged that Abbas was taken away by authorities right after her overseas relative made a speech stating that Uyghurs were being systematically detained. This, too, is plausible given that the Chinese government has detained family members of overseas Uyghur journalists.
According to the Chinese Foreign Ministry, Abbas "was imprisoned on charges of participating in terrorist activities, aiding a terrorist organization, and disrupting public order." But there is no formal record of these charges, or any evidence against her, and China's government refused to provide any information on the case in response to the WGAD's request.
Operating in Total Secrecy
In another case from 2022, the WGAD issued an opinion on the case of an entire Uyghur family: Abdurashid Tohti, his wife Tajigul Qadir, and their two sons Ametjan Abdurashid and Mohamed Ali Abdurashid. The WGAD stated that it was "disturbed at the total secrecy which appears to surround the fate and whereabouts" of the four people, because the Chinese government refused to provide any information about the detained individuals.
The Chinese government claims to be operating in accordance with the "rule of law" and has pledged to "fully protect the public's right to information" in court rulings in Xinjiang, but these pledges appear disingenuous when viewed through the practical experience of Uyghurs in actual cases.
Relatives of Abdurashid Tohti were told by the Chinese Embassy in Turkey that he had been sentenced to 16 years and 11 months' imprisonment for the "crimes of disturbing social order and preparing to commit terrorist activities." But no evidence was given. Similarly, Qadir was sentenced to a 13-year prison term for the "crime of preparing to commit terrorist activities" – again, without explanation.
To underscore the haphazard and random way in which the Chinese government has behaved in its crackdown on Uyghurs, the WGAD opinion notes that in the case of Ametjan Abdurashid, the government did not dispute the allegation that "prior to the court hearing, he was forced to choose from a list of offenses that are shown to persons belonging to the Uyghur minority and to plead guilty."
Indeed, all four people were likely to have been subjected to an unfair trial, although, as in the cases above, there is no evidence that a trial even took place. The WGAD noted that "the charges against them are unknown and the dates of their trials, as well as details of those proceedings, if they ever took place, are equally unknown. The [Chinese] Government had an opportunity to clarify all this, but it chose not to do so."
Day of the Disappeared
August 30 marks the International Day of the Victims of Enforced Disappearances. Numerous civil society groups have written an open letter to raise awareness of the Chinese government's use of enforced disappearances and have urged the Chinese government to free disappeared human rights defenders, like lawyer Gao Zhisheng, as well as Uyghurs and Tibetan environmental defenders.
The world must particularly remember that the Chinese government has disappeared an enormous number of people in the Uyghur region since 2017 – potentially hundreds of thousands. Even now, years later, their loved ones often still do not know if their detained relatives are dead or alive.
If middle-aged people, like Abdurashid Tohti, age 54, or Gulshan Abbas, age 61, are given very long prison sentences – in prisons where hunger, torture, and lack of medical care are common – there is a good chance that these arbitrarily detained people could die in prison.
Chinese state media frequently dismiss the allegations that it has engaged in "crimes against humanity" or "genocide" in the Uyghur region as a bunch of "lies."
But when confronted with real cases, such deflection becomes hard to sustain.
Can the Chinese government answer the basic questions raised by the WGAD? Can it provide information about the fate of Tajigul Qadir and her family? How is Ekpar Asat doing? Where is Gulshan Abbas?
As the WGAD notes, there is a pattern to the Chinese government's behavior:
In its 30-year history, the Working Group has found China in violation of its international human rights obligations in numerous cases. The Working Group is concerned that this indicates a systemic problem with arbitrary detention in China, which amounts to a serious violation of international law. The Working Group recalls that, under certain circumstances, widespread or systematic imprisonment or other severe deprivation of liberty in violation of the rules of international law may constitute crimes against humanity.
By continuing its campaign of systematic imprisonment, even in defiance of U.N. bodies, the Chinese government continues to provide evidence that is engaging in ongoing crimes against humanity. To regain trust with the international community, the Chinese government should immediately release all those who have been victims of enforced disappearance.