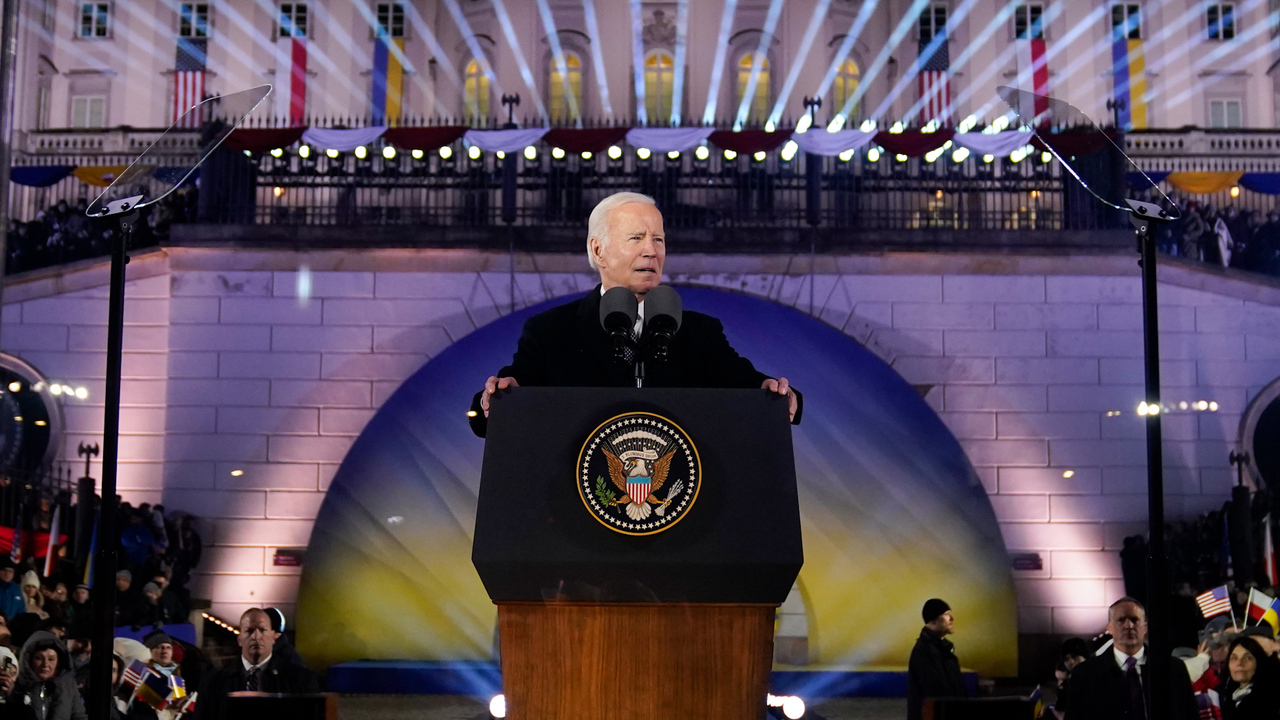 Biden rallies the West to not get tired of winning
The feeling behind those words reflected the long-held views of a devout transatlanticist, a man who was 3 years old when World War II ended. Biden grew up in an era of American military and economic domination bolstered by partners across the Atlantic. The mission to safeguard Europe from tyranny since the 1940s has expanded worldwide, leading the United States to defend the "rules-based international order" it created against those opposed to free markets and free societies.
A fortification of that order, maintained through the sanctity of alliances, is central to the president's entire foreign policy. And the war in Ukraine for Biden is a test of whether the U.S. is, in some respects, the nation of yesteryear. Can it stand for something, inspire and lead? Can it still be a force for good? Can it prolong global democracy's flickering flame?
The president held that the answers to those questions were yes, yes and yes.
"When Russia invaded, it wasn't just Ukraine being tested. The whole world faced a test for the ages," Biden said. "Europe was being tested. America was being tested. NATO was being tested. All democracies were being tested. And the questions we face are as simple as they are profound: Would we respond, or would we look the other way?"
"One year later, we know the answer: We did respond. We would be strong, we would be united, and the world would not look the other way."
To celebrate the 75th anniversary of the alliance, Biden also announced the United States will host the NATO summit next year.
Hours before the speech, national security adviser Jake Sullivan told reporters Biden wanted to stand in Europe to affirm "what is at stake here is more than just the success and survival of the nation of Ukraine, but the rules-based international order, the fundamental principles of sovereignty and territorial integrity and the fundamental values of independence, democracy, freedom that matter so much to everyday American people."
"The president has believed passionately in the themes … for decades," Sullivan said, applying them now at what Biden terms "an inflection point in history."
Biden's allies say he struck the right notes both in Ukraine and Poland. "The president's address makes clear to Russia and other aggressors watching how steep the price will be for those who threaten freedom and democracy," said Sen. Jeanne Shaheen (D-N.H.), who chairs the Foreign Relations Committee's Europe panel.
Despite the somber reason for his visit to Kyiv — the one-year anniversary of Russian troops, tanks, warplanes and missiles crossing into Ukraine — Biden displayed a joyous bounce as he wandered through the city. He stood alongside Ukrainian President Volodymyr Zelenskyy even as air-raid sirens blared throughout the capital, a reminder that Russia still holds 20 percent of Ukraine and threatens nearly all of it with its weapons, terrorizing civilians daily. It was the first time a modern-day president traveled to a warzone the U.S. military didn't control.
Biden's lifted spirit drew from the symbolism of his lengthy and clandestine journey on "Rail Force One." He was there as a physical representation of America's continued commitment to Ukraine — "as long as it takes," is his mantra — and rebuke to Putin. The Kremlin boss has unleashed war criminals, mercenaries and conscripts to unseat Zekenskyy, the same man with whom Biden was coordinating, congratulating and consoling.
The images beamed around the world were meant to deliver one message: These were two presidents on America's Presidents' Day showing a thug what true leadership looked like. It was, after all, only a year ago when Biden, also standing outside Warsaw's Royal Palace, said that Putin "cannot remain in power."
This year, with the palace garden surroundings lit up in blue and yellow and in front of a roaring crowd waving American, Polish and Ukrainian flags, Biden reported that "Kyiv stands strong, it stands proud and it stands free."
But with the pageantry ending, and the drama receding, what remains are questions about how Biden can repeat his performance in the year ahead. The fear from within and outside the administration is that a weakened Russia could still deal Biden a setback as the brutal war of attrition drags on.
Putin, for all his struggles, hit similar notes of confidence, including during his State of the Union speech Tuesday which he moved up to pre-rebut Biden's Warsaw address. "Step by step, we will accomplish all our tasks carefully and consistently," he said before falsely accusing the West of starting the war. "We are using force to stop it." He spiked tensions further by suspending the last-remaining nuclear treaty between the U.S. and Russia, the same one he and Biden extended for five years in 2021.
Secretary of State Antony Blinken called Putin's decision "deeply unfortunate and irresponsible."
With no end in sight, and no peace deal Ukraine could likely accept, Biden needs European allies to hold strong for months, maybe years. Officials from this continent say they were lucky the winter season was relatively mild, allowing Europeans to withstand high energy prices and cold snaps. But another 365 days of shivers and thinning wallets could see continental voters turn against their governments.
One of Biden's audiences was back home: the bipartisan congressional coalition supporting Kyiv has largely held, though isolationist voices in the GOP have grown louder. And, as Biden's likely reelection bid approaches, polls suggest Americans are cooling on sending money to Kyiv. Biden also aimed, subtly, at Beijing. He suggested China should not increase its aid to Moscow, again framing the generational struggle between democracies and autocracies.
But it is unclear if the West's arsenal of democracy can keep up with demand. At the Munich Security Conference, held days before Biden's trip, European leaders like German Chancellor Olaf Scholz and French President Emmanuel Macron echoed that their weapons-production lines weren't humming along as desired for Ukraine's and their own security. Macron implored Europe "to invest more in defense. If we want peace, we need the means to achieve it."
Rep. Jason Crow (D-Colo.), part of the U.S. congressional delegation to the conference, worried about America's ability to fill at least part of that gap. "The burn rate is very unsustainable," he said in an interview there, as Ukrainian troops "are firing more munitions than we can produce. We can't create, in the short term, a larger pipeline. The industrial base cannot do it."
"The way we fix that is we actually train them on fire and maneuver and advanced tactics that use substantially less ammunition to achieve the same or greater result," the House Armed Services Committee member and veteran said.
This week also featured some slight cracks in American and European rhetoric regarding Russia. The Biden administration repeats that it seeks Moscow's "strategic defeat," depleting it of the resources to sustain a modern economy, an equipped military and system of kleptocracy that keeps Putin in control. But in an interview with a French newspaper this week, Macron called on the West to help Ukraine win the war but not "crush" Russia. That followed his comments last year that Moscow should not be "humiliated over its invasion."
Tending to America's vast and varied allies is paramount for Biden, though there have been missteps along the way. Some allies raged then, and still do now, about his withdrawal from Afghanistan, and France was irate after being cut out of a nuclear submarine deal with Australia.
But what the president showcased in Poland was lockstep support for the transatlantic bond that undergirds his defense of Ukrainian and global democracy from behind the Resolute Desk.
"The stakes are eternal," said Biden. "The choice between chaos and stability, between building and destroying, between hope and fear, between democracy that lifts up the human spirit and the brutal hand of the dictator that crushes it."