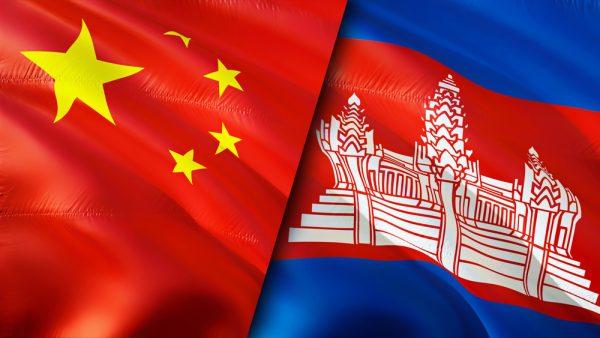 Cambodia's Hun Sen Receives Support Pledges on China Visit
Cambodian Prime Minister Hun Sen received assurances of Chinese economic and political support during a meeting with Chinese President Xi Jinping.
Cambodian Prime Minister Hun Sen received multiple assurances of Chinese economic and political support during a meeting Friday in Beijing with Chinese President Xi Jinping.
"(China) firmly supports Cambodia in safeguarding national sovereignty and security, firmly supports Cambodia in steadily advancing major domestic political agendas and economic and social development, and resolutely opposes external forces interfering in Cambodia's internal affairs," Xi was quoted as telling Hun Sen by China's official Xinhua News Agency.
China will also encourage more Chinese enterprises to invest in Cambodia, help in the construction of the Sihanoukville economic zone in Cambodia's southwest on the Gulf of Thailand, and support building transportation infrastructure, Xi said.
Hun Sen was quoted as thanking China for providing COVID-19 vaccines and said Cambodia "firmly supports China in safeguarding national sovereignty, security, and development interests" and "firmly opposes any external forces interfering in China's internal affairs on issues related to Hong Kong, Xinjiang, and Tibet.
Cambodia is a key Chinese diplomatic partner, helping dampen criticism of Beijing within the 10-member Association of Southeast Asian Nations, several of whose members are engaged in territorial disputes with China in the South China Sea.
The meeting at the Diaoyutai State Guest House comes in the middle of Hun Sen's three-day visit. He was to meet later with outgoing Premier Li Keqiang, after which the leaders were to oversee the signing of a raft of agreements.
Hun Sen took power in 1998 and with strong Chinese backing has eliminated all democratic threats to his rule, muzzling the press and locking up or exiling opponents and critics.
In return, China has gained an outsized role in Cambodian politics and the economy, as seen in the numerous Chinese-funded projects, hotels and casinos dotting the landscape.
China's state banks have also financed airports, roads and other infrastructure built with Chinese loans.
More than 40 percent of Cambodia's $10 billion in foreign debt is owed to China, although Cambodia has not asked Beijing to restructure that burden, unlike other countries such as Sri Lanka, Zambia, and Ethiopia, which have taken out massive Chinese loans.
Despite its small size, Cambodia has become an important partner for China, which was the top backer of the communist Khmer Rouge regime in the 1970s whose radical policies are blamed for the deaths of an estimated 1.7 million people.
In June, China and Cambodia broke ground on a naval port expansion project that has raised concerns from the US and others that it could give Beijing a strategically important military outpost on the Gulf of Thailand.
Hun Sen in 2019 reportedly granted China the right to set up a military base at the Ream Naval Base. He has long denied that, saying Cambodia's constitution prohibits foreign military facilities.