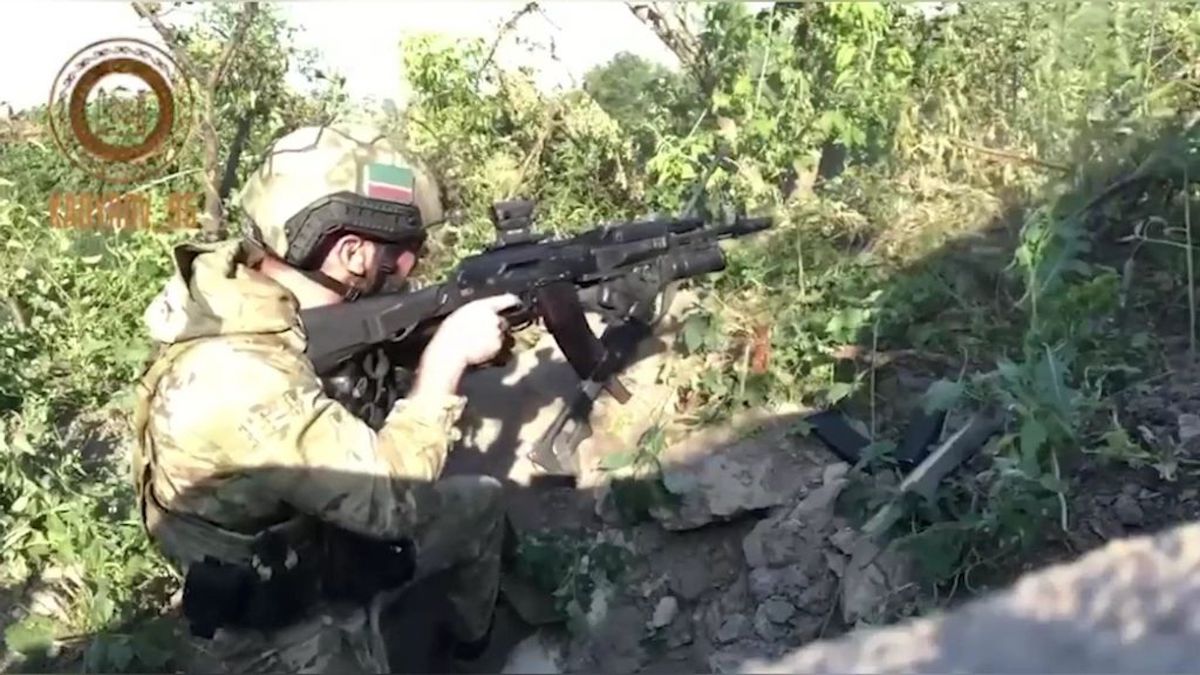 Chechen leader claims forces have surrounded Ukrainian troops in Zolote
Chechen leader Ramzan Kadyrov has claimed that pro-Russian forces have surrounded Ukrainian forces between the settlements of Zolot and Gorskoy.
In a statement obtained by Zenger, Kadyrov said on Thursday: "Operational information directly from the line of contact comes from fighters of the Special Police Regiment named after Hero of Russia Akhmat-Khadzhi Kadyrov.
"Our people are operating competently in the region under the command of our dear brother and Hero of Russia, Zmid Chalev."
"According to reliable information, the enemy is forced into a tight circle between the settlements of Zolot and Gorskoye. Thus, all retreat routes are closed. The position of the Ukro-Nazis is very fragile and fraught with dire consequences. An early crushing defeat.
"The troops of the Allied Forces put enormous pressure on the Ukro-Nazis position and, apparently, the enemy suffered huge losses in manpower.
"The well-thought-out tactics of our soldiers, combined with excellent combat skills, once again brought good results. At the moment, the Nazis, banderites and mercenaries of all stripes, who have experienced the full force of the Chechen security forces, have only two options – Surrender or early departure."
The Banderaites were followers of the Ukrainian fascist leader of World War II, Stefan Bandera.
Russia invaded Ukraine on February 24 in what the Kremlin calls a "special military operation". Thursday is the 120th day of the attack.
The General Staff of the Armed Forces of Ukraine reported that between 24 February and 23 June, Russia had approximately 34,430 personnel, 1,504 tanks, 3,632 armored fighting vehicles, 756 artillery units, 240 multiple launch rocket systems, 99 air defense systems, 216 warplanes. had lost it. , 183 helicopters, 620 drones, 137 cruise missiles, 14 warships, 2,548 motor vehicles and fuel tankers, and 60 units of specialized equipment.
Russian Foreign Ministry press secretary Maria Zakharova said Moscow's response Lithuania is banning the transit of goodsApproved by The European UnionTo Kaliningrad would be not only diplomatic but also practical.
Ukrainian military said that they Successfully thwarting new Russian efforts Advancing into the Kharkiv region of northeastern Ukraine, but Russian forces have captured several settlements near Lisichansk and Severodonetsk, 568 civilians are believed to still be sheltering at Severodnetsk's Azot chemical plant. .
The city of Lischansk, located in the Luhansk region of eastern Ukraine, is now said to be under siege by Russian and pro-Russian forces.
Irina Vereshchuk, Deputy Prime Minister of Ukraine and Minister for Reunification of Temporarily Occupied Territories, has urged local people to Kherson region To evacuate, to help Ukrainian forces "de-capture" the area.
British intelligence has claimed that the pro-Russian so-called Donetsk People's Republic (DPR) has lost about 55 percent of its core forces.
President of Ukraine Volodymyr Zelensky Said it is a "historic week" as Kyiv awaits a Brussels decision about its EU candidate status, with the EU expected to approve the application at a summit in Brussels on Thursday.
The European Parliament adopted a resolution on 8 June which recommended that The European Union Give Ukraine the status of a candidate country for EU membership. In the motion, 438 members of the European Parliament voted in favor of the motion, with 65 in opposition and 94 abstaining.
Zelensky, speaking to the African Union on Monday, accused Russia of holding Africa "hostage" over grain and fertilizer shortages.
The head of the International Energy Agency, Fatah Birol, has warned that Russia could cut gas supplies to Europe this winter. Several European countries have received less Russian gas than expected in the past few weeks, with European imports of natural gas from Russia falling from about 40 percent to 20 percent before the war broke out.
This story was provided to Newsweek zengar news,