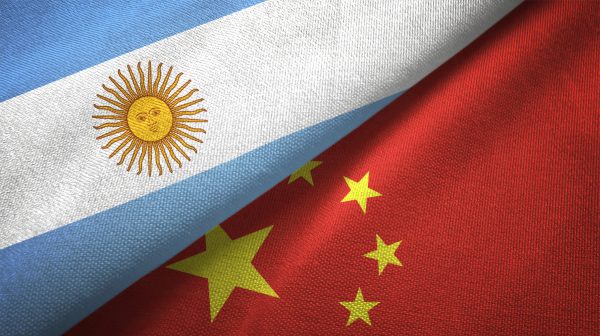 China Is Banking on Argentina's Future Glory
In January, before spy balloons floating over the continental US and Latin America sparked reignited debate about China's interests in the Western Hemisphere, Shanghai University professor Jiang Shixue published an op-ed in the Global Times entitled: "I Believe the Argentines will Create More Glory." He argued that Argentina potentially joining BRICS, hosting the 7th Community of Latin American and Caribbean States summit on January 24, and of course winning the World Cup all augured well for Argentina's future.
Similar themes were highlighted at the official level on January 30, when Chinese Foreign Minister Qin Gang spoke with his Argentine counterpart. by phone,
Jiang's praise for Argentina offers an interesting glimpse into how Chinese scholars view Argentina as a key pillar in China's engagement with Latin America, as well as the obstacles they perceive keep Argentina from achieving its full glory.
Jiang first pointed out that Argentina should strengthen its governance. While he called Argentina's democratic system "resilient," he pointed out that if a newly elected government comes to power soon, it may "simply abandon various policies of the previous government." This is a nod to the upcoming presidential election in 2023 and how it may impact China-Argentina relations.
Current President Alberto Fernandez, a left-leaning leader who has deepened relations with China in recent years, faces opposition from within his own party. His vice president, Cristina Fernandez de Kirchner, has been convicted of corruption and could spend up to six years in prison. And the nation faces its worst inflation crisis in decades, reaching 95 percent in 2022.
If a right-wing candidate comes to office, he or she could hamper Argentina-China relations in the coming years. When former right-wing President Mauricio Macri was in office, he initially sought to reviews and revise several Chinese-funded projects inked by the Kirchner administration. He ended up resuming such mega projects as the Belgrano railway line, while canceling a Nuclear To install power plant deal. The Fernandez administration restarted several of the scrapped projects, but a continuation of this "two steps forward, one step back" trend would undoubtedly cause a headache for Chinese officials and investors.
Second, Jiang suggested that Argentina "give full play" to its "comparative advantages," especially its rich natural resources. While he didn't explicitly mention lithium, that natural resource has become the new "white gold" for Argentina, Chile, and Bolivia, which are known collectively as the Lithium Triangle.
Chinese state owned enterprises Ganfeng and Zijin are both deeply engaged in lithium operations throughout Argentina. Ganfeng, for instance, has a 51 percent stake in the Cauchari-Olaroz project in Jujuy province, is planning to buy an Argentine mining group called Lithea, and will build a lithium mining plant in Salta province. Meanwhile, Zijin bought a Canadian company that was operating the Tres Quebradas project, and would invest in a lithium refinery plant. Such activity will only increase as Argentina is expected to provided 16 percent of the world's lithium supply by 2030.
Jiang also encouraged Argentina to increase its beef exports, which would benefit China as Argentina's largest beef customer. But Jiang makes it sound as if the problem of Argentina's beef exports is domestic, pointing out that the Argentine government suspended beef exports for 30 days in 2021. In fact, there was also a decrease in demand from China due to its self-imposed economic uncertainty amid the zero COVID policy. Argentine beef exports to China will most likely return to pre-pandemic levels in the months and years to come.
Third, Jiang wrote that Argentina should invest more in technological innovation. He praised the fact that, of the 17 Latin American Nobel Prize winners, five of them are from Argentina. But he noted the country has "not made enough achievements" in the fields of science and technology. This may be a key reason why China has been increasing its science and technology exchanges with Argentina. Last year, the two sides established the China-Argentina Bi-National Center of the Study of Policies for Innovation and Technology. And Chinese entities have built the Espaço Lejano space research facility in Neuquen and an Antarctica research facility in Ushuaia near Tierra de Fuego.
Finally, Jiang closed by highlighting the need for Argentina to strengthen "social cohesion." He warned that Argentines "not only take to the streets to celebrate…Maradona and Messi…but also take to the streets to express dissatisfaction by knocking on pots and pans, strike for their own interests, or block traffic arteries with burning tires." Such potential instability would impact Chinese commercial interests in Argentina; similar protests have hampered Chinese mining operations in Peru and elsewhere. What's interesting here is how Jiang projected China's own constant concerns about "maintaining stability," both domestically and internationally.
All in all, Jiang's op-ed gives us a window into Chinese thinking about Argentina as a key strategic partner in the region. It also shows China's optimistic priorities for Argentina, and its hope that the nation that has experienced a recent string of accomplishments keeps achieving "glory" for both itself – and for China.