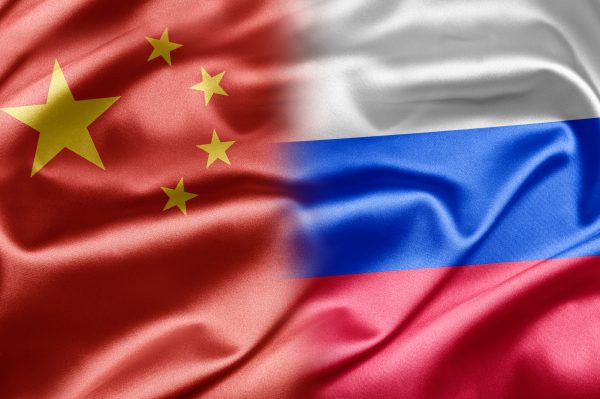 China Says It's Seeking Role in Ukraine Peace Settlement
The foreign minister of China, which has provided strong political backing for Russia in its invasion of Ukraine, said Tuesday his country wants to play a role in ending the conflict.
Qin Gang told participants at a security conference in Beijing that China was concerned the nearly yearlong war could escalate further and spin "out of control."
China would continue to urge peace talks and provide "Chinese wisdom" to bring about a political settlement, he said.
"At the same time, we urge relevant countries to immediately stop adding fuel to the fire, stop shifting blames to China, and stop hyping up the discourse of Ukraine today, Taiwan tomorrow," Qin said in an apparent reference to military support provided to Ukraine by the United States and its allies, as well as concerns that China is preparing to make good on its threats to use force to assert its claim over Taiwan, a self-governing island democracy.
China has refused to condemn Russia's invasion or atrocities against Ukrainian civilians and strongly criticized Western economic sanctions against Moscow. In deference to Moscow, it has yet to describe the conflict as an invasion.
China and Russia have aligned their foreign policies to oppose the United States, and, weeks before the Ukraine invasion, their leaders declared a partnership with "no limits." China also says Russia was provoked into using military force by NATO's eastward expansion.
Despite that, Qin reiterated China's claim that it has "always taken an objective and impartial stance based on the merits of the issue."
"China is deeply worried about the escalation of the situation and even the possibility of it going out of control," Qin said. He said Chinese President Xi Jinping had put forward proposals that have "played a responsible and constructive role in easing the situation and de-escalating the crisis," without offering any details or evidence.
"We will continue to promote peace talks, provide Chinese wisdom for the political settlement of the Ukraine crisis, and work with the international community to promote dialogue and consultation to address the concerns of all parties and seek common security," Qin said.
China has opposed criticism of Russia at the United Nations, while insisting that the sovereignty and territorial integrity of all nations be respected, a position that underpins its claim to Taiwan, which separated from the mainland amid civil war more than 70 years ago.
Russian President Vladimir Putin could meet with the Chinese Communist Party's foreign policy chief Wang Yi in Moscow, the Kremlin said Monday.
Kremlin spokesman Dmitry Peskov hailed Russia-China ties as "multidimensional and allied in nature."
That statement coincided with US President Joe Biden's unannounced visit to Ukraine on Monday to meet with President Volodymyr Zelenskyy and show support for Kyiv days ahead of the one-year anniversary of Russia's invasion.
Wang's trip to Russia follows talks Saturday with US Secretary of State Antony Blinken on the sidelines of an international security conference in Munich. Blinken said he reiterated to Wang that any Chinese material support for the Russian armed forces would trigger a strong response from Washington. Thus far, the United States says there are no indications that China is doing so, although its close economic ties with Russia have offered a lifeline to Putin's regime.
Russia, in turn, has offered strong support for China and held a series of joint military drills amid tensions with the United States over Taiwan, trade, human rights, and Chinese territorial claims in the South China Sea.
China's Foreign Ministry issued a lengthy statement Tuesday outlining Xi's "Global Security Initiative," which aims to "eliminate the root causes of international conflicts, improve global security governance, encourage joint international efforts to bring more stability and certainty to a volatile and changing era, and promote sustainable peace and development in the world.
In its only reference to Russia's invasion, it said the initiative would "support political settlement of hotspot issues such as the Ukraine crisis through dialogue and negotiation."
At a daily briefing, Foreign Ministry spokesperson Wang Wenbin criticized military aid provided to Ukraine by the United States and its allies, saying that "the US claims to maintain peace, but actually it is making money from the crisis."
"There are enough facts to show the true nature of the US as a source of trouble rather than a defender of peace for the world," Wang said.
The United States has committed about $113 billion in aid to Ukraine since last year, while European allies have committed tens of billions of dollars more and welcomed millions of Ukrainian refugees who have fled the conflict. Such aid is funded by US and other foreign taxpayers, with Ukraine under no obligation to provide repayment as it seeks to withstand renewed Russian attempts to regain territory it had earlier conquered.
Wang also defended China's "comprehensive strategic partnership" with Russia as "based on non-alignment, non-confrontation, and non-targeting of third parties, which is within the sovereignty of two independent countries."
Wang gave no details on Wang Yi's visit to Moscow, but called it "an opportunity to work with Russia to jointly promote steady progress of bilateral relations in the direction determined by the two leaders, safeguard each other's legitimate rights and interests and contribute positively to world peace."
Wang Yi also met with Ukraine's foreign ministerDmytro Kuleba, on the sidelines of the Munich Security Conference on February 18.
According to Ukraine's Foreign Ministry, Kuleba emphasized to Wang that not all peaceful settlements of the Ukraine war are created equal: "We agree that the fundamental UN Charter principle of territorial integrity is sacred for both of our states. I reiterate that all initiatives aimed at restoring peace in Ukraine need to be based on it."