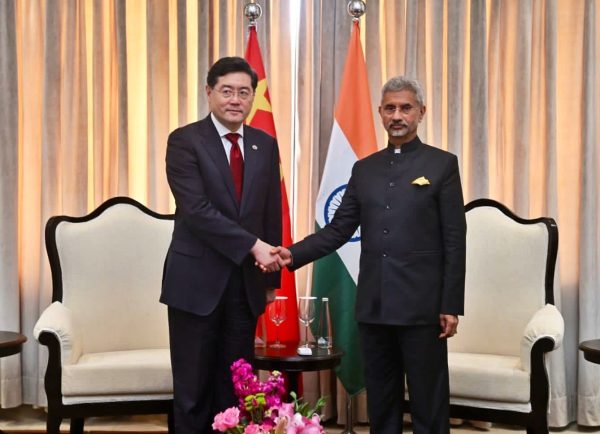 China's G20 Diplomacy Highlights Geopolitical Rifts
Chinese Foreign Minister Qin Gang made his first trip to India on March 1 and 2 to attend the foreign ministers' meeting of the G-20 countries. Qin had a full agenda: In addition to the G-20 discussions, his bilateral meetings were of acute interest at a time of increasing great power competition. In addition to tensions with host country India over confrontations along their disputed border, Qin also had to navigate China-US uncertainties and the looming shadow of the Ukraine war.
Qin's remarks at the G-20 meeting underlined China's priorities for the global order. First, he said, "We need to practice true multilateralism… No one should engage in power politics or even bloc confrontation." That's a recurring complaint from Chinese officials, referencing US attempts to build coalitions that work together to address perceived threats from China and Russia.
Qin also took aim at US efforts to "decouple" from China, which have been particularly noticeable in the technology sector. "We need to promote the sound development of globalization, reject unilateralism, protectionism and attempts to decouple or sever supply chains, and ensure the stable and smooth operation of global industrial and supply chains," he proclaimed.
For the most part, Qin kept his brief remarks focused on the economic situation – the traditional focus of the G-20, and certainly China's preferred topic for the group to discuss, given the yawning chasm between member states on security and geopolitical issues. But he also acknowledged, "Global development and prosperity cannot be achieved without a peaceful and stable international environment." Pointing to Xi Jinping's still nebulous "Global Security Initiative" and China's recent "position paper on the political settlement of the Ukraine crisis," Qin declared that "China will always stand on the side of peace, actively promote peace talks, and play a constructive role."
The Ukraine war (which China calls a "crisis") figured heavily in the readout of Qin's meeting with Russian Foreign Minister Sergei Lavrov. That might seem obvious, but hasn't always been the case in the past. The Chinese readout of Xi Jinping's September 2022 meeting with Russian President Vladimir Putin, for example, didn't even mention Ukraine once.
By contrast, the summary of the latest China-Russia foreign minister talks devoted a whole paragraph to expounding "China's basic position on Ukraine." In fact, it was the only specific issue mentioned in the readout.
Qin reiterated China's support for "all efforts that are beneficial to promoting peace talks" and promised to "continue to play a constructive role to that end." But, in keeping with what has been called China's "pro-Russia neutrality," most of his comments were veiled barbs at the United States. Qin said China "opposes adding fuel to the fire" (something China's Foreign Ministry spokespeople routinely accuse Washington of doing by providing arms to Ukraine), "opposes sabotaging peace talks, opposes double standards, and opposes sanctions and pressure."
The Ukraine war was also on top of the agenda for US Secretary of State Antony Blinken. Before arriving in New Delhi, he had visited Kazakhstan and Uzbekistan, where he stressed Russia's culpability for the economic turmoil the Ukraine war has inflicted on the world. Blinken continued that theme at the G-20 meeting, where he said that The group "must continue to call on Russia to end its war of aggression and withdraw from Ukraine for the sake of international peace and economic stability."
Blinken said on March 1 that he had "no plans" to meet with either Lavrov or Qin. He did have a brief conversation with the Russian foreign minister on the sidelines of the G-20 meeting, but there were no reports of a bilateral meeting with his Chinese counterpart.
Blinken was supposed to not only meet with Qin but be hosted by him during a planned trip to Beijing in early February. That trip, of course, was canceled amid the furor that erupted after a surveillance balloon from China crossed over the continental United States. The US shot down the balloon, then released a wave of damaging intelligence about a "a PRC fleet of balloons developed to conduct surveillance operations, which have also violated the sovereignty of other countries… including in East Asia, South Asia, and Europe."
China responded with fury, accusing the US of overreacting and objecting to the use of force against what it called an unmanned "civilian airship" used for scientific research. In Blinken's last interaction with a Chinese official, top diplomat Wang Yi (Qin's predecessor as foreign minister) told him that the United States needs to "demonstrate sincerity, and acknowledge and resolve the damage its abuse of force has done to China-US relations."
While in New Delhi, Qin also held talks with India's External Affairs Minister S. Jaishankar. Predictably, the discussion centered on the tense situation along the disputed China-India border. The two countries have been locked in a military standoff at various sections of the border since spring 2020, highlighted by a deadly clash at Galwan Valley in May of that year.
Since then, India has repeatedly insisted that there can be no "business as usual" in the bilateral relationship unless the border tensions are addressed. China, meanwhile, advocated for "shelving" the border dispute and carrying on talks related to other issues – an approach many Indian analysts feel would benefit Beijing by effectively ceding newly occupied territory.
So far, India seems determined to stick to its guns and limit talks to the border. "Our discussions were focused on addressing current challenges to the bilateral relationship, especially peace and tranquility in the border areas," Jaishankar said on Twitter.
On the sidelines of the G-20, Qin also held bilateral meetings with the foreign ministers of Australia, Brazil, Germanyand Saudi Arabia,