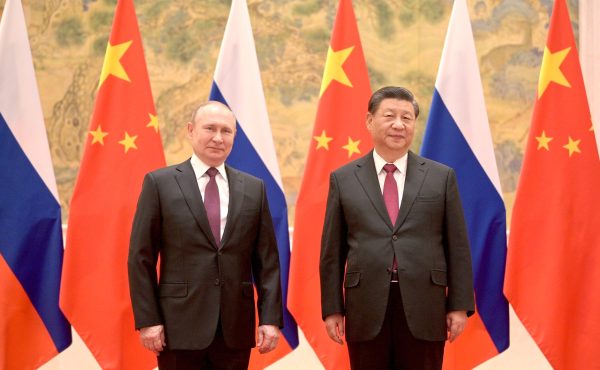 China's Growing Economic Support for Russia
China's seeming indifference to the considerable economic costs of Russia's invasion of Ukraine has been one of the most surprising, and consequential, developments of the past year. Surging commodity prices have imposed significant costs on China, the world's largest energy and agricultural importer – yet Beijing has never condemned the invasion, nor used its economic and political heft to pressure Moscow to the negotiating table.
Indeed, there is growing evidence that the Chinese leadership, instead of seeking to wind down the war, is actually stepping up economic support for Russian President Vladimir Putin, implicitly encouraging Moscow to continue the conflict. While the war has already inflicted significant and growing economic and reputational costs on Xi Jinping's China, Beijing shows no sign of backing off its pro-Russia neutrality,
The Russian economy's performance and Russia's fiscal budget are closely linked to energy, especially oil. About half of Russia's exports are attributable to the oil and gas sector, as was 45 percent of Russia's 2021 federal budget, Constraining Russia's energy export earnings has therefore been one of the West's highest wartime priorities.
Washington and Brussels have sought to put a ceiling, or cap, on prices of Russian crude oil and crude oil products, such as gasoline, diesel, and jet fuel. The policy seeks to maintain supplies of Russian crude while restricting Moscow's revenues. By maintaining production stability in world energy markets – and thus limiting inflation – while also restricting the Kremlin's revenues, the West hopes to constrain Moscow's ability to prosecute its illegal and brutal invasion of Ukraine.
Beijing has long maintained it would not comply with Western sanctions on Russian oil, including the price caps. In September, after a G-7 convening on price caps, the Chinese Foreign Ministry implied it opposed To install price caps. China's opposition has become more direct in recent weeks. In December, the Foreign Ministry reiterated its implied opposition to price caps.
More strikingly, however, in a February Chinese-language Xinhua article republished in the authoritative People's Daily, Chinese state media asked, "How effective is the EU's oil price embargo against Russia?" Citing anonymous "analysts," the article concluded that the price caps would undermine energy stability and drive inflation higher in the European Union. The People's Daily is also repeating this narrative in its English-language platform. In effect, Beijing is not only declining to comply with the price caps but also seeking to undermine European support for the measure – all while seemingly maintaining technical compliance with Western sanctions.
Beijing's increasingly open and forceful opposition to Western price caps is extending to the trade of other goods and services, including ones with military applications. US officials, speaking to Reuters, saw China providing "non-lethal military assistance and economic support that stops short of wholesale sanctions evasion." While Beijing's refusal to comply with price caps is not surprising, its potential extension of military assistance, even non-lethal assistance, is highly noteworthy and potentially consequential.
The war is at a turning point. Analyst's note that the course of the war is more uncertain now than it has been for months. With the Russian and Ukrainian militaries both facing ammunition shortages and other logistical constraints, any military support for Moscow could prove decisive, even if Chinese companies provide only "non-lethal" assistance.
Even if Chinese companies are not receiving explicit permission to export military-relevant equipment, Beijing is doing very little to stop them. Chinese companies are always extremely sensitive to domestic political signals, especially in the Xi era. Their export of materials to Russia is telling. Xi Jinping's continuous, high-profile political support for Putin and the Russian war effort – including a potential visit to moscow this year – has signaled to Chinese businesses that they will not be punished for exporting critical material to Russia.
A long war appears highly likely due to military and political conditions. The Russian economy's ability to withstand a long war is questionable, however, especially without Chinese support. Indeed, Alexandra Prokopenko of Carnegie finds that North Korea only is more dependent on Chinese imports than Russia.
It is increasingly clear that the Kremlin's strategy is to outlast the West in Ukraine and leverage the conflict's economic damage to tip the scales for Kremlin-friendly populists in European and, especially, North American elections. The Kremlin is willing to extend the war, in part, because it believes it will continue to receive Chinese economic support. While Beijing may not support all of Moscow's goals in the conflict, it is also not opposing them.