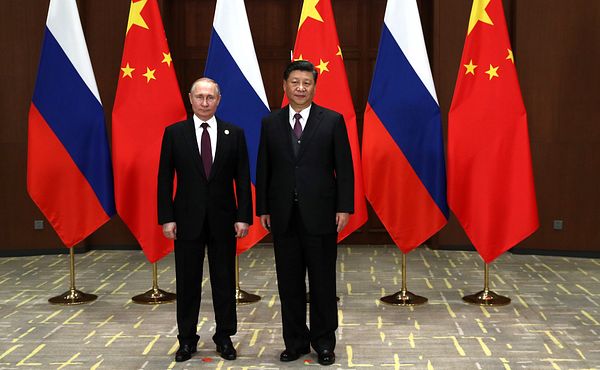 China's Xi to Meet Putin as Beijing Seeks Bolder Global Role
Chinese President Xi Jinping plans to visit Moscow next week, offering a major diplomatic boost to Russian President Vladimir Putin on the same day the International Criminal Court announced it wants to put the Russian leader on trial for alleged war crimes.
Xi's visit was the latest sign of Beijing's emboldened diplomatic ambitions and came amid sharpening East-West tensions over the war in Ukraine, now in its 13th month.
The United States said on Friday it would oppose any effort by China at the meeting to propose a ceasefire in Ukraine as the "ratification of Russian conquest."
White House National Security Council spokesman John Kirby encouraged Xi to reach out to Ukrainian President Volodymyr Zelenskyy to get his country's perspective on the war and avoid any "one-sided" proposals.
China has sought to project itself as neutral in the conflict, even while it has refused to condemn Moscow's aggression and declared last year that it had a "no-limits" friendship with Russia. Beijing has denounced Western sanctions against Moscow and accused NATO and the United States of provoking Putin's military action.
Through the conflict, China has said the sovereignty and territorial integrity of all countries should be respected. It remains unclear, however, whether it sympathizes with Moscow's claims to seized Ukrainian territory.
Russian troops remain bogged down in a battle of attrition, focused now on those areas in Ukraine's eastern Donbas region.
Xi's visit would mark his first meeting with Putin since September, when they met on the sidelines of a regional summit in Uzbekistan. Before that, Putin attended the opening of the 2022 Beijing Winter Games and met with Xi shortly before sending troops into Ukraine.
Kremlin spokesman Dmitry Peskov said Friday that Putin and Xi would have a one-on-one meeting over an informal dinner Monday. Broader talks involving officials from both countries on a range of subjects are scheduled for Tuesday.
Putin's foreign policy adviser, Yuri Ushakov, suggested the talks could yield new approaches to the fighting in Ukraine. "I'm sure that our leader and the Chinese leader will exchange their assessments of the situation" there, he said. "We shall see what ideas will emerge after that."
Kyiv doesn't just want Russia to pull back from areas taken since its February 2022 full-scale invasion. Zelenskyy has demanded that Russia also withdraw from the peninsula of Crimea, which Moscow annexed in 2014 in a move denounced by most of the world as illegal.
But Putin has shown no intention of relinquishing the Kremlin's gains. Instead, he stressed Friday the importance of holding Crimea.
"Obviously, security issues take top priority for Crimea and Sevastopol now," he said, referring to Crimea's largest city. "We will do everything needed to fend off any threats."
On Thursday, Chinese Foreign Minister Qin Gang reached out to his Ukrainian counterpart, Dmytro Kuleba, saying Beijing was concerned about the war spinning out of control and urging talks on a political solution with Moscow.
China has "always upheld an objective and fair stance on the Ukraine issue, has committed itself to promoting peace and advancing negotiations, and calls on the international community to create conditions for peace talks," Qin said.
Kuleba later tweeted that he and Qin "discussed the significance of the principle of territorial integrity." Ukraine has listed Russia's withdrawal from the occupied areas as the main condition for peace.
"I underscored the importance of (Zelenskyy's) peace formula for ending the aggression and restoring just peace in Ukraine," wrote Kuleba, who spoke the same day with US Secretary of State Antony Blinken.
China last month called for a ceasefire and peace talks between Kyiv and Moscow. Zelenskyy cautiously welcomed Beijing's involvement but the overture appeared to go no further.
Yurii Poita, head of the Asia section at the Kyiv-based New Geopolitics Research Network, believes the Ukrainian government is going along with China's involvement because it is reluctant to make another powerful enemy.
"Do not antagonize the dragon when you are fighting against a bear," Poita told The Associated Press.
Beijing's apparent deeper dive into Ukraine issues follows its success last week in brokering talks between Iran and its chief Middle Eastern rival, Saudi Arabia. Those two countries agreed to restore their diplomatic ties after years of tensions.
The agreement cast China in a leading role in Middle Eastern politics, a part previously reserved for longtime global heavyweights like the US.
On the back of that, Xi called for China to play a bigger role in managing global affairs.
Washington has marshaled Western military and diplomatic efforts against Putin.
On Friday, Kirby told reporters, "A ceasefire now is, again, effectively the ratification of Russian conquest." It would "in effect recognize Russia's gains and its attempt to conquer its neighbor's territory by force, allowing Russian troops to continue to occupy sovereign Ukrainian territory."
Russia could use a ceasefire to regroup "so that they can restart attacks on Ukraine at a time of their choosing," he warned.
A spokesman for Prime Minister Rishi Sunak said Britain would welcome any genuine effort by China aimed at "restoring sovereignty to Ukraine."
"Any peace deal which is not predicated on Ukraine's sovereignty and self-determination is not a peace deal at all," Sunak's spokesman Jamie Davies said.
Nataliia Butyrska, a Ukrainian political analyst, said Beijing's potential peacemaking role could be clouded by its stance on territorial integrity.
"China doesn't clearly distinguish between who is the aggressor and who is the victim" in Ukraine, she told The AP.
China has its own territorial issues, with Taiwan, which it claims as its own, to be brought under its control by force if necessary.
Russia-US tensions were further escalated this week with the destruction of a US drone over the Black Sea on Tuesday after an encounter with Russian fighter jets, although that also prompted the first conversations since October between the countries' defense and military chiefs.
Putin invited Xi to visit Russia during a video conference call the two held in late December. The visit, Putin said, could "demonstrate to the whole world the strength of the Russian-Chinese ties" and "become the main political event of the year in bilateral relations."
Chinese Ministry of Foreign Affairs spokesperson Wang Wenbin said Friday that Xi and Putin will discuss "bilateral relations and major international and regional issues of common concern…."
"Currently, the world is entering a new period of turbulence and reform with the accelerated evolution of changes of the century," he added. As permanent members of the UN Security Council and important major countries, the significance and impact of the China-Russia relations go far beyond the bilateral sphere."
The arrest warrant from the International Criminal Court at The Hague accused Putin of involvement in abductions of children from Ukraine to Russia. It also issued a warrant for his commissioner for children's rights, Maria Alekseyevna Lvova-Belova.
The court has no police force of its own to enforce warrants, and the Kremlin has said it doesn't recognize the jurisdiction of the International Criminal Court.