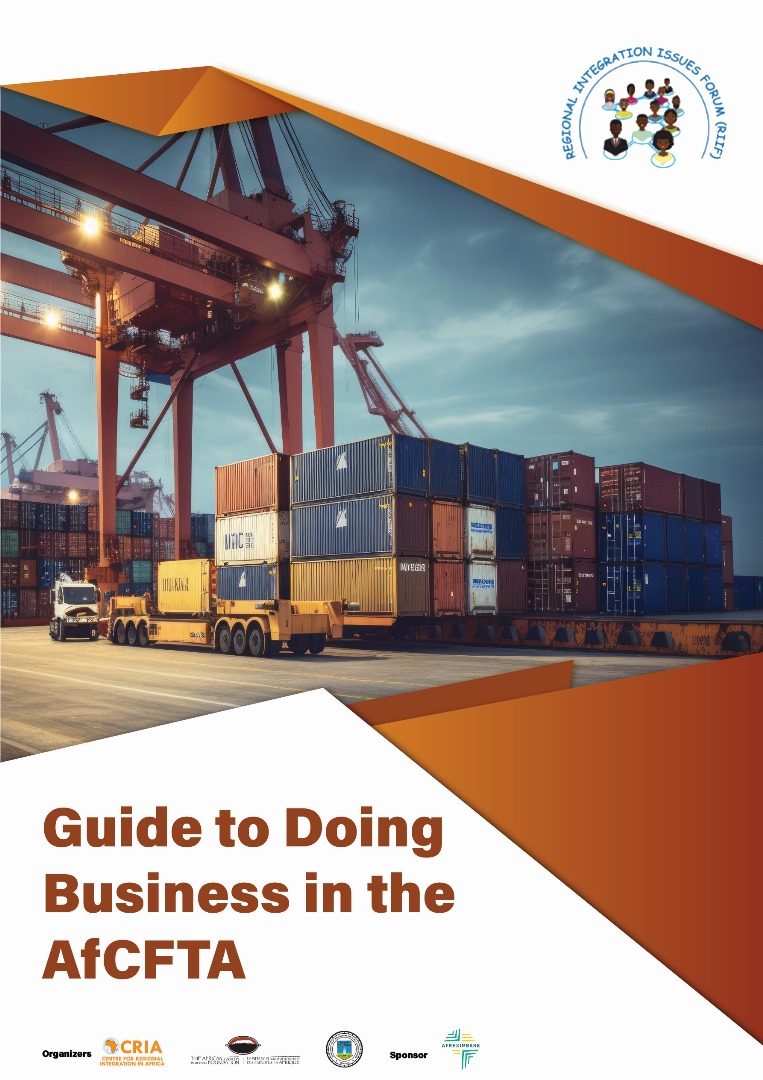 CRIA, CBF to convene regional SME conference to build capacity for accelerating implementation of AfCFTA – MyJoyOnline.com
The Centre for Regional Integration in Africa (CRIA) and the African Capacity Building Foundation (ACBF), in collaboration with the Ghana Institute of Management and Public Administration (GIMPA), are organising the 2023 Regional Integration Issues Forum (RIIF) as a conference for African SMEs, under the theme "Breaking Business Barriers for AfCFTA Acceleration" with support from Afreximbank and endorsement from the AfCFTA.
The conference will be held at the Movenpick Hotel in Accra, Ghana, on September 27-28, 2023. It is a hybrid event that allows for both in-person and virtual attendance.
The RIIF is a sensitization mechanism and an interface platform for stakeholders involved in regional integration and continental trade initiatives. The 2023 RIIF aims at increasing awareness of the AfCFTA and its benefits for SMEs, as well as to strengthen SMEs' capacity to engage in intra-African trade.
The conference will bring together about 150 participants from Burkina Faso, Cameroon, Ghana, Liberia, Nigeria, Senegal, South Africa, Togo, and Zimbabwe, among other countries.  The participants include business owners of SMEs, private sector executives, international and African trade experts, AfCFTA Secretariat representatives, regional business councils, academics, research institutions and think tanks, development institutions, financial institutions, African thought leaders and business influencers, and the media.
The SME conference will feature a keynote address by the Secretary General of the AfCFTA Secretariat, interactive panel discussions, breakout sessions, networking segments, training sessions, and company site visits.
The 2023 RIIF SME conference will showcase practical ways in which AfCFTA provides opportunities to mobilise resources and stakeholders, build capacity, scale-up businesses, develop inclusivity for intra-African trade, create jobs, expand national economies, and develop a sustainable continental market and ecosystem that effectively meets the needs of African people.
The conference is in support of the African Union's theme for 2023: "Year of AfCFTA: Acceleration of the African Continental Free Trade Area Implementation". Additional RIIF conferences and training initiatives will be planned in other regions of the continent to build the capacity of business leaders to understand the AfCFTA and gain access to intra-African cross-border trade. The first phase will begin in West Africa, where the Pan African Payment Settlement System (PAPSS) has been piloted to ensure financial ease of doing business across African borders and markets.
The two-day SME conference is strictly by invitation. It will, however, be streamed live on zoom and CRIA and ACBF social media pages.
"We have been convening the RIIF in partnership with ACBF since 2017 and, this year, GIMPA has joined us in organizing the 2023 RIIF SME conference. The initiative has also attracted strategic support from Afreximbank and the AfCFTA Secretariat. Regional Integration and intra-African trade are key strategies for transforming our economies and no single entity can do it all." said Prof Lehlohonolo Tlou, Executive Director of CRIA. "The conference is an important opportunity to join forces in building the capacity of SMEs to engage in intra-African trade and to contribute to the success of the AfCFTA. We believe working together can create a prosperous future for all Africans."
"The AfCFTA provides tremendous opportunities for African SMEs. The RIIF 2023 conference is designed to help SMEs understand and leverage these opportunities, and to overcome barriers that they may face," she added.
"Capacity building plays a vital role in addressing the challenges and opportunities presented by the AfCFTA and breaking the business barriers for its acceleration, and this Conference is contributing to such efforts", acknowledges M. Mamadou Biteye, Executive Secretary of ACBF. He added, "ACBF recognizes that without the necessary capacities, African countries and businesses, SMEs in particular, may struggle to fully leverage the benefits of AfCFTA. The ACBF Strategic Plan 2023-2027 includes 'Trade as an Engine of Economic Development' as one of four key impact areas that we will focus our work on over the next five years. We will provide targeted capacity building support to governments, policymakers, institutions, private sector entities, SMEs and individuals involved in the AfCFTA implementation process."
DISCLAIMER: The Views, Comments, Opinions, Contributions and Statements made by Readers and Contributors on this platform do not necessarily represent the views or policy of Multimedia Group Limited.
Tags:  
Source link