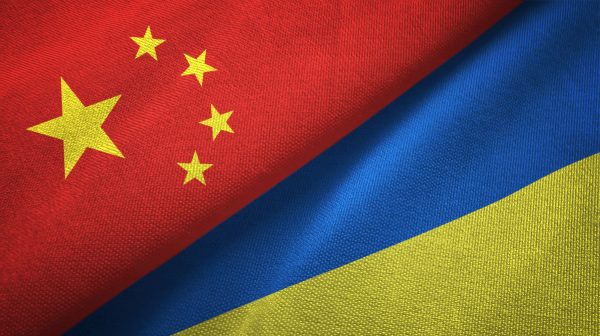 Explaining China's Diplomatic Strategy on Ukraine
China's leader Xi Jinping is in Moscow this week, where he will meet with Russian President Vladimir Putin. This comes after a recent phone call between the foreign ministers of China and Ukraine. Following Beijing's successful mediation between Saudi Arabia and Iran, China is now posturing as a mediator in the Russia-Ukraine war. This is not just for show. From the perspective of the Chinese Communist Party (CCP) – whose ultimate goal is global economic, ideological, and military dominance – this is a necessary step for China.
The West continues to prop up Ukraine. If China doesn't intervene, Russia will soon fail, and this is where China has the most to lose – not only by potentially losing the bulwark of the Putin regime, but also by losing the economic opportunity to rebuild Ukraine and instead bleeding out China's pre-war economic investment in the country. The CCP sees this as the best time for it to play a mediating role. The Chinese regime is eager to assume this role as soon as possible, capitalizing on the momentum it gained by successfully mediating between the Saudis and Iranians,
According to information released by Beijing in January, China is focused on spearheading diplomatic breakthroughs in the Russia-Ukraine war, the Israeli-Palestinian conflict, and the Iran-Saudi proxy conflict. Diplomatic relations between Iran and Saudi Arabia have already been restored, as of March 10, following China's mediation.
China's overall strategic principle toward Ukraine is to play the economic card to make Kyiv recognize and even embrace China's primary role as a mediator in the war. In any mediation, China would seek to preserve Putin's regime, gain the greatest economic opportunities for Ukraine's reconstruction, and enhance China's leadership position in the international arena.
China's economic relations with Ukraine before last year's Russian invasion were remarkably strong. Chinese investors and the Ukrainian government signed a number of cooperation agreements (including for the manufacture of aircraft engines) between 2017 and 2019. China overtook Russia as Ukraine's top trading partner in 2019. In 2021, total bilateral trade reached $19 billion, an increase of nearly 80 percent since 2013. In the first 11 months of 2021, the value of new contracts signed by Chinese companies in Ukraine approached $7 billion. And during 2020 and 2021, Ukraine and China signed several agreements to strengthen cooperation in infrastructure financing and construction.
Ukraine imports machinery, equipment, and various consumer goods from China, while China imports minerals, corn, sunflower oil, and key components such as aircraft engines and missile parts from Ukraine.
As China knows, Ukraine understands that fighting Russia and preparing for economic reconstruction must be done simultaneously, and that no country can match China's economic volume. That means China can make an offer that Ukrainian President Volodymyr Zelenskyy cannot refuse. Zelenskyy will not refuse China's economic assistance; His goal is to unite all the forces that can be united, except Putin's Russia.
In light of this understanding, China will seek to induce Ukraine to recognize and even embrace Beijing's primary role as a mediator in the Russo-Ukrainian War. Rather than questioning values ​​(who is right or wrong in the conflict), China is simply using an economic "carrot and stick" approach.
On February 18, top Chinese diplomat Wang Yi presented a peace plan for Ukraine at the Munich Security Conference and met with Ukrainian Foreign Minister Dmytro Kuleba. Less than a week later, on February 24, the Chinese Foreign Ministry released "China's Position on the Political Settlement of the Crisis in Ukraine."
The same day, much less fanfare, China republished a document outlining tax guidelines for Chinese citizens investing in Ukraine. In early March, Chinese-controlled media outlets, including Phoenix Television, conducted a series of interviews with various parties, including Ukrainian Parliament Speaker Ruslan Stefanchuk, to spread the word that the Ukrainian side welcomes Chinese economic investment.
Last week, Beijing announced indirectly through major foreign media outlets, such as The Wall Street Journalthat Xi would hold his first dialogue with Zelenskyy since the invasion.
On March 16, Chinese Foreign Minister Qin Gang spoken by telephone with Ukrainian Foreign Minister Kuleba, the first such contact since Qin took up his post in December. In their conversation, Qin said that in the past 31 years since the establishment of diplomatic relations, China-Ukraine relations have maintained good momentum. He also said China is willing to work with Ukraine to promote the development of stable, long-term relations, and that there is great potential for a strong bilateral relationship.
Kuleba expressed Ukraine's commitment to building mutually respectful ties with China. He said that China is an important partner of Ukraine, and also an indispensable power in international affairs. He congratulated China on the recent successful reconciliation between Saudi Arabia and Iran. Ukraine, he added, looks forward to enhancing and diversifying economic cooperation with China.
Kuleba introduced the latest situation of the Ukrainian crisis and the prospects for peace talks and thanked China for providing humanitarian aid to Ukraine. He also said that China's position paper on the political settlement of the Ukrainian crisis reflects its sincerity in promoting a ceasefire and stopping the war, adding that he hoped to maintain communication with China.
Qin stressed that "China has always upheld an objective and fair stance on the Ukraine issue, committed itself to promoting peace talks, and called on the international community to create conditions for peace talks." He added, "China is worried that the crisis will escalate and may spiral out of control, and hopes that all parties will remain calm, rational and exercise restraint, resume peace talks as soon as possible, and promote a return to the track of political settlement.
"We hope that Russia and Ukraine will keep hope for dialogue and negotiation, and will not close the door to a political solution, no matter how difficult and challenging it is. China will continue to play a constructive role for a ceasefire to stop the war, ease the crisis and restore peace," Qin said.
Ukraine will continue to reserve a role in its future reconstruction for China and Xi's Belt and Road Initiative, regardless of the form of management, and China's intention is clearly to continue good relations with Ukraine. The task of Qin's new team in 2023 is to reactivate the previously agreed projects and play the economic card to ensure that Ukraine's policy toward China remains within manageable limits.
However, China faces several fundamental obstacles to the success of Russia's-Ukraine strategy. First, since the war broke out last February, China has adopted a seemingly neutral position. But everyone knows that Beijing sides with Russia, and it has never condemned Russia for its aggression against Ukraine, or even called the invasion a war.
Second, aside from China's "pro-Russia neutrality," Russia lacks broad support from the international community (including the United Nations). Very few countries, with some exceptions in the developing world, have bought into Russia's narrative of the war.
Third, the terms of a possible ceasefire between Ukraine and Russia are up in the air. It is doubtful that China could come up with armistice conditions that would satisfy both sides, especially on the territorial issue. The issue of Crimea's status is especially sensitive. Russia regards it as a critical security interest, but awarding Crimea to Russia would put the CCP in a bind. Beijing consistently denies Taiwan's territorial sovereignty; In order to be consistent, China must regard Crimea as part of "one Ukraine." As for Ukraine's position, the Ukrainians are determined to regain all of their territory, or at least the Donbas.
Finally, as reported in the media, US intelligence agencies have confirmed that China is supplying Russia with shipments of lethal weapons. Customs data obtained by politics show that 1,000 Chinese assault rifles have been shipped directly to Russia, as well as drones and body armor shipped via Turkey and the United Arab Emirates.
All of this makes it difficult for the United States, the European Union, NATO, and their democratic allies in the Indo-Pacific – not to mention Ukraine – to truly trust China as a mediator.
There is a consensus in Washington that the Russian challenge is acute but temporary, but that in the long run the only country with the real ability to challenge the rule-of-law-based democratic international order will be China. Of course, the US, Europe, and their Indo-Pacific allies want a quick end to the war to avoid further collateral damage. But anyone with a modicum of strategic acumen knows that if the war ends on Chinese-brokered terms, with China getting the most out of the mediated resolution, then the post-war global landscape will be exponentially more difficult for the democratic world, whether viewed in terms of China's diplomatic projection capabilities, an increasingly insecure Taiwan, or the formation of a Sino-Russian-Saudi-Iranian alliance to settle oil transactions in China's national currency (renminbi) in order to challenge the hegemony of the US dollar.
Therefore, Ukraine and the democratic world at large must act quickly and decisively to put strategic limits on China's role in the Russo-Ukrainian War.