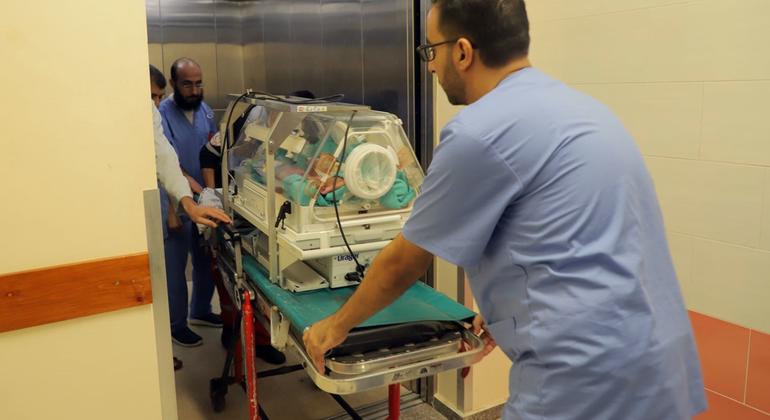 Gaza crisis: aid agencies warn of 'tragic, avoidable surge' in child deaths
"About 160 children are killed every day; that's one every 10 minutes," said UN World Health Organization (WHO) spokesperson Christian Lindmeier, echoing concerns from the UN Children's Fund about the serious additional threat of a mass disease outbreak in the enclave.
"If youngsters continue to have restricted access to water and sanitation in Gaza, we will see a tragic yet entirely avoidable surge in the number of children dying," UNICEF spokesperson James Elder told journalists in Geneva, who noted that more than 5,350 Palestinian children had reportedly been killed, according to the enclave's health authorities. 
"The death toll among children is sickening," Mr. Elder said. "Grief is becoming embedded in Gaza. So this then is a stark warning: without sufficient fuel, without sufficient water, conditions for children will plummet."
The UNICEF spokesperson added that at least 30 Israeli children are still being held hostage "somewhere in this hellscape", before appealing for their immediate release, to spare them "their fear (and) the torment" their families have endured.
Hospital evacuation planned
Speaking to journalists in Geneva, WHO's Mr. Lindmeier explained that "every 10 minutes, two children are injured", while youngsters and their families caught up in the conflict have been dying "in terrifying circumstances".
According to the UN health agency, around 180 babies are born every day in the war-shattered enclave. More than 20 of them need specialized care, just like the infants from Al-Shifa hospital in Gaza City, where 31 premature and low-birthweight babies in intensive care were evacuated over the weekend. The original number of infants was 33 but two died "because of the lack of care available to them," Mr. Lindmeier said.
Highlighting the dire situation all over Gaza where "less than half" of the enclave's hospitals and clinics now function "in any capacity", the WHO official said that plans were continuing to evacuate the remaining 200 patients and 50 health workers from Al-Shifa hospital, as a desperate, last resort.
Facing 'certain death'
"When these people – the doctors, the nurses, the patients – are asking to be evacuated, that's really the last resort," he said, adding that it meant "that the situation on the ground has grown so dire that the only other alternative is facing what they think certain death". 
The WHO spokesperson explained that such evacuations were extremely complicated and dangerous, requiring coordination with Israeli Defense Forces and with Hamas "to get to a safer place inside Gaza".
The evacuation teams will "need time, they need preparation, they need specialized equipment, they need safe passage", Mr. Lindmeier said.
Almost no water, fuel, food
According to the UN health agency, Gaza is now home to thousands of injured and critically ill people. There has been a sharp increase in diseases such as diarrhoea, and respiratory infections, along with "almost no water, fuel, food, electricity, or medical supplies".
Some 72,000 cases of upper respiratory infections have been reported in displacement shelters with close to 49,000 cases of diarrhoea and over half of these among children under age five. This compares with a pre-war monthly average of 2,000 cases in 2021, 2022.