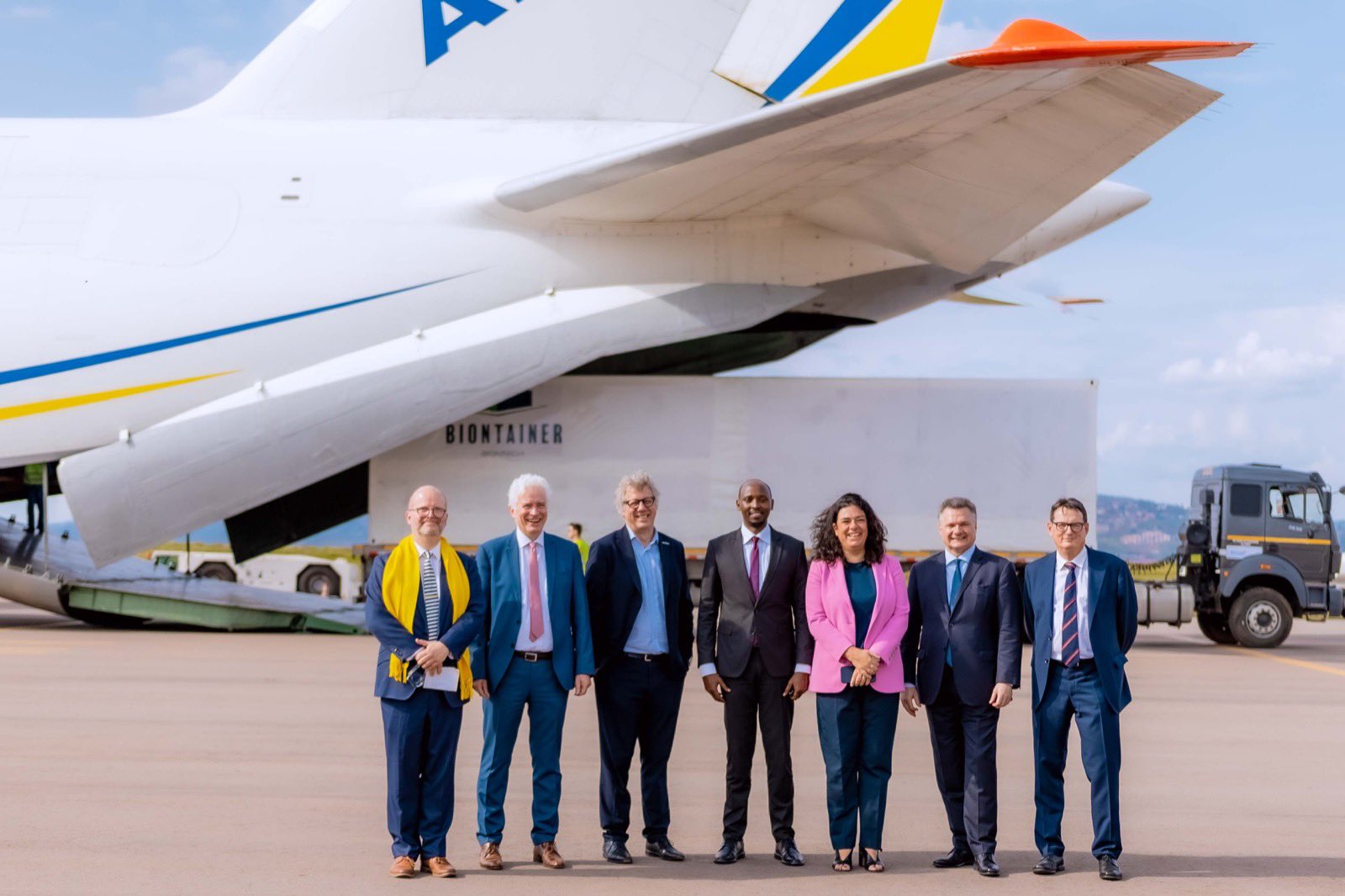 "Historic Milestone"-President Kagame, WHO Boss Hail Arrival Of Vaccine Manufacturing BioNTainers
President Paul Kagame has hailed the arrival vaccine manufacturing biocontainers sent to Rwanda by Germany-based pharmaceutical firm BioNTech, describing it as a major milestone towards mRNA vaccine production on the African continent.
Six ISO-sized shipping containers for the first BioNTainer arrived in the country on Monday, where they were received at the Kigali International Airport by Health Minister Dr. Sabin Nsanjimana and BioNTech's Chief Operating Officer, Dr. Sirak Poeting. Representatives of the World Health Organization (WHO) and United Nations agencies along with other officials.
"Historic milestone earlier today as @BioNTech_Group BioNTainers arrived in Rwanda, exactly 3 years after the first case of Covid-19 was detected in our country. The system will allow end-to-end mRNA vaccine production in Africa for the first time.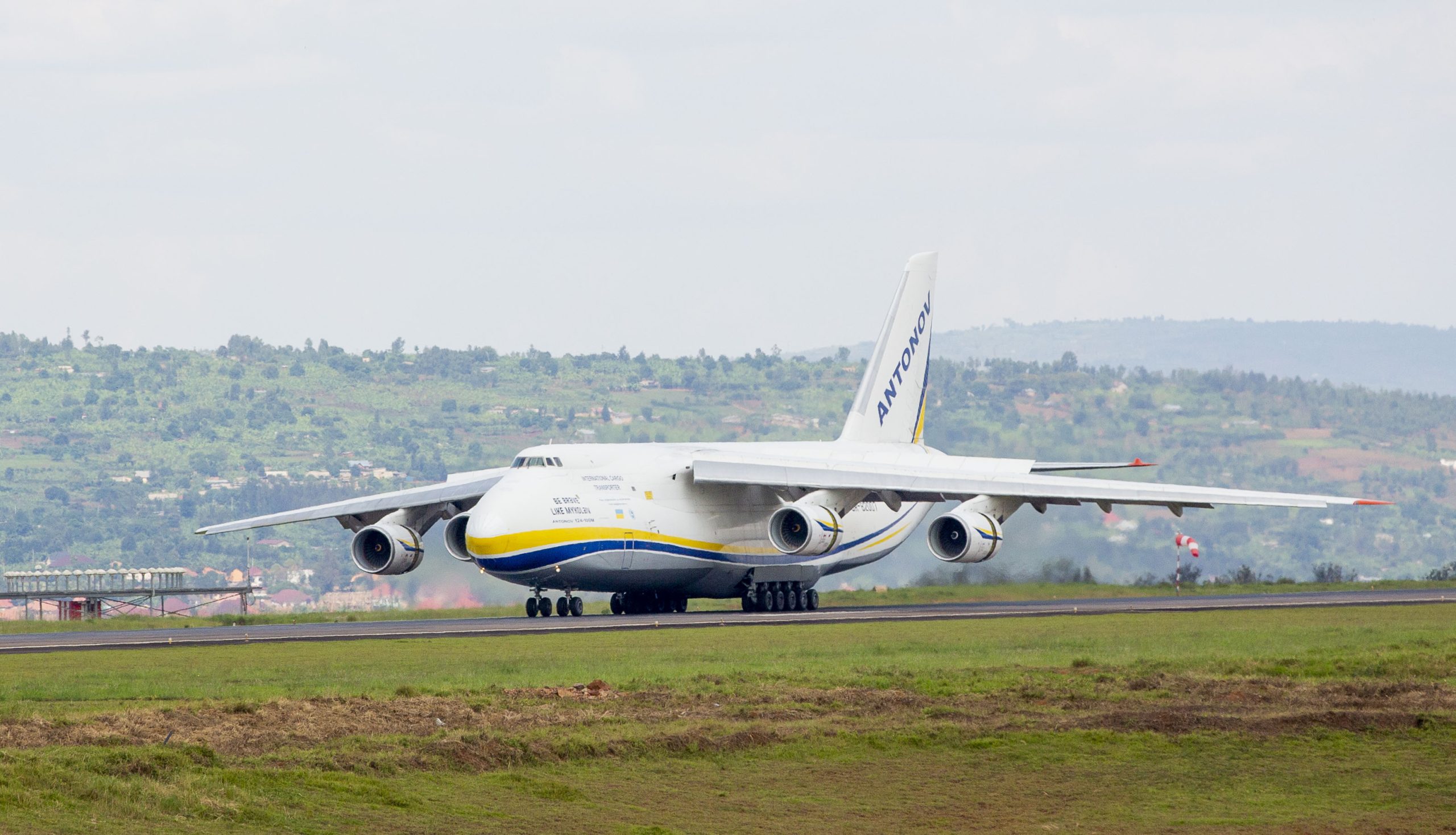 "Our thanks and appreciation to Ugur Sahin, Ozlem Turesi, Sirk Poting and the entire BNT team for the excellent partnership, as well as to @KenupFoundation, #TeamEurope, @IFC_org, @WHO and @AfricaCDC for key support." President Kagame said via Twitter.
Following the equipment's arrival, BioNTech said it will continue to build and develop its state-of-the-art manufacturing facility in Rwanda for the production of mRNA-based drugs and product candidates following a groundbreaking in June 2022.
WHO Director-General, Dr. Tedros Adhanom Ghebreyesus, joined President Kagame in congratulating him on the milestone, pointing out that it would ensure vaccine equity on the African continent.
"Truly, this is history in the making, my brother President @PaulKagame. Thank you for your leadership & commitment to making #VaccineEquity a reality in Africa!" Dr. Tedros tweeted.
Indeed, this is about to become history, my brother the President @paulkagame, Thank you for your leadership and commitment to making #vaccineequity A reality in Africa! https://t.co/5xK4QTaXBj

— Tedros Adhanom Ghebreyesus (@DrTedros) March 13, 2023
The facility will initially house two sets of BioNTainers for mRNA vaccine production in bulk and is expected to become the first node in a decentralized and robust end-to-end manufacturing network in Africa.
BioNTech is also pursuing facility development in Senegal and South Africa in close coordination with each country. Vaccines derived from this envisaged pan-African infrastructure would be intended for people living in member states of the African Union, with the aim of supporting access to novel medicines.
BioNTech is advancing mRNA-based vaccine candidates to address malaria and tuberculosis based on the company's mRNA platform. Malaria vaccine candidate BNT165 to enter clinical trials in December 2022. Clinical trials of the tuberculosis vaccine candidate BNT164 are expected to enter human trials shortly.
Former director of the Africa Centers for Disease Control and Prevention, Dr. John N. Nkengasong, who was among the drivers of the project, congratulated President Kagame on the milestone.
Congrats @paulkagame On your leadership in global health security and pandemic preparedness! An inspiring moment for global health security indeed. #covidCovid-19 taught us that danger anywhere is danger everywhere. Such leadership guarantees collective security! https://t.co/VU4axdgAsw

— John Nkengasong (@JNkengasong) March 13, 2023