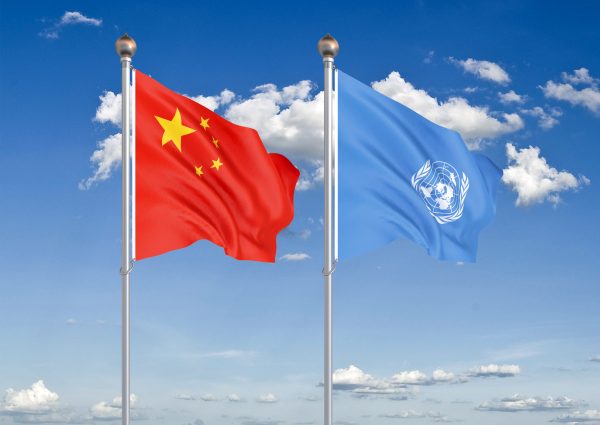 How China Tries to Bamboozle the United Nations
In recent days, the China watching community has been consumed with talk of a surveillance balloon that crossed over the continental United States before being shot down off the country's coast.
Beijing has insisted that the balloon was "civilian" and "meteorological" in nature – and just happened to float over many of the United States' most sensitive nuclear sites.
Of course, while many questions remain unansweredexperts have pointed out that the balloon was indeed most likely made for surveillance, According to the US government, the balloon was part of a massive global surveillance program that has been underway for years. And yet the Chinese government is trying to get the international community to believe its fanciful narrative.
Next week in Geneva, on February 15-16, the Chinese government will be testing the international community again – specifically the UN Committee on Economic, Social and Cultural Rights (CESCR) Beijing will seek to defend its compliance with the International Covenant on Economic, Social and Cultural Rights and its record in protecting these rights since the last review in 2014.
And while there certainly has been some progress in the past nine years, the Chinese party-state will seek to present a happy, alternative reality that denies many indisputable facts.
In a submission ahead of the reviewthe Network of Chinese Human Rights Defenders (CHRD) pointed out many of Beijing's misrepresentations and half-truths to the committee.
Most notably, while the UN has long recognized the key role of human rights defenders In realizing human rights, the Chinese government has instead created a totally hostile environment for them. Beijing has cracked down on feminists, imprisoned labor rights organizers, and shut down LGBTQ+ student groups. Citizen journalists who were documenting information about housing, land, health, and other rights are suffering in prison.
The list of persecuted defenders is endless, but let's look at a few representative examples.
take Huang Xueqin, a former journalist and prominent feminist. While Beijing tries to convince the international community that it cares about women's rights, it has held leader of China's #MeToo movement in incommunicado detention since September 2021.
Huang was detained with her friend, a labor rights advocate. Wang Jianbing, While China – nominally a socialist state – insists to the world that it cares about labor rights, Wang and Huang are facing the charge of "inciting subversion of state power."
Or take the case of Zhang Zhan, a citizen journalist who reported on the early outbreak of COVID-19 from Wuhan. She gave the international community access to information about the dire implications of COVID-19 while the government engaged in strict censorship. Zhang urged the Chinese government to protect health rights, but she is serving a four-year prison sentence with life-threatening health conditions. She was sentenced in 2020 on the charge of "picking quarrels and provoking trouble." Zhang is believed to be just 41 kilograms (90 pounds) in prison.
Rather than producing an "enabling environment" for these defenders, as the CESCR has suggested, China's government has justified its persecution by claiming that the defenders are carrying out their important work only "under the banner" of human rights and instead have ulterior motives. Since the government rejects the concept of an independent judiciary, seeing it as a "Western" plot, the party-state has no problem securing convictions in criminal proceedings.
Even worse, lawyers defending clients whose work involves economic, social, and cultural rights have faced a grim situation. Starting on July 9, 2015, the Chinese government launched an unprecedented nationwide crackdown on human rights lawyers, which has been dubbed the "709 Crackdown." In the next few months, the police interrogated and detained over 300 lawyers and paralegal assistants and raided three law firms. Dozens of lawyers and legal assistants and activists were detainedand 15 were eventually convicted.
The United Nations, foreign governments, and law associations spoke out against the egregious persecution of lawyers during the infamous 709 Crackdown. This assault on the legal community became a watershed moment for civil and political rights in China, which defined the contours of the "rule by law" in Xi Jinping's "New Era."
But what is less known is that the Chinese government has been stealthily going after human rights lawyers ever since. According to research compiled by CHRD for this upcoming UN review, since 2015:
20 human rights lawyers had their law licenses cancelled;
4 human rights lawyers were unable to renew their law licenses;
4 human rights lawyers did not pass the "political appraisal" needed to obtain a law license;
18 human rights lawyers were forced to leave their law firms, often due to official pressure on the law firm, and then were unable to find another law firm willing to hire them due to their previous history of taking on cases that involved human rights abuses.
In total, China's government has, without any legitimate basis, forced at least 46 lawyers out of legal practice since 2015. And yet, the government claimed that there is "no so-called intimidation of human rights lawyers."
How can Beijing get away with such an assertion in the face of overwhelming evidence to the contrary?
Enter the GONGOS.
GONGOs are, paradoxically, "government-organized NGOs." They are closely affiliated with the Chinese party-state but appear, on the surface, to be NGOs.
Deploying GONGOs is an obstructionist tactic the Chinese government increasingly uses when UN committees assess China's performance in implementing the treaties it has ratified. For the upcoming CESCR review, at least 23 GONGOs or other entities tied to the party-state submitted reports to the Committee as "civil society organizations" – compared with just four such submissions for the 2014 CESCR review. Like fake Luis Vuitton bags at a bootleg market, these fake NGOs flood the market and diminish the value of the real products. Committee members waste valuable time reading their reports, listening to their interventions, and trying to decipher which NGOs are real and which are fake.
Not only does the Chinese government have multiple opportunities to bombard the CESCR with its "discourse power"using its army of GONGOs, but it also benefits from a Trojan Horse inside: a veteran Chinese diplomat, Shen Yongxiang, is actually a Committee member. While Shen is experienced and well educated, according to UN rules, members serving on UN treaty bodies should be independent and impartial. But, as a new report from the International Service for Human Rights points out, individuals from the PRC serving on United Nations treaty bodies often have deep, long-standing affiliations with the Chinese government, or even official roles in the Communist Party.
Not only that, Shen also currently holds a position as vice president of the China Society for Human Rights Studies (CSHRS), a key organization for external propaganda on human rights issues for the party-state.
While the CSHRS's website features seminars of participants diligently studying Xi Jinping's view on human rights and Articles On the need to "build discourse power: telling Chinese human rights stories well," grassroots human rights defenders aiming to engage with the UN face the risk that their lives will be ruined for doing so.
Harassment, intimidation, and the threat of reprisals are all common tactics used to dissuade Chinese citizens from interacting with UN bodies. Every year the UN secretary general compiles a reports on human rights defenders who have faced reprisals for attempting to engage with the UN system, and there is always a long list of cases from China.
The most egregious case was that of Cao Shunli, Chinese police detained Cao in September 2013 at Beijing Capital International Airport in an effort to prevent her from traveling to Geneva. Cao went missing for five weeks before Beijing police confirmed she had been criminally detained. She was subsequently denied adequate medical treatment and release on medical bail despite her worsening health, which culminated in her death in police custody in March 2014.
There is a clear message from the government to anyone who might dare to disagree with its reports to the CESCR or its claims of vast human rights progress more generally: "Engage at your peril."
Like many of the Chinese government's actions, intimidation and reprisals blatantly challenge almost all of the core principles articulated in the UN Declaration on Human Rights Defenders, which celebrates its 25th anniversary this year. In particular, the Chinese government threatens the core principle that people have a right to communicate and participate with international bodies in the realization of their rights.
But the key question is: Why would the Chinese government go to such lengths to limit civil society's interaction with the United Nations?
The answer is that Xi Jinping has repeatedly envisioned an international system with the UN "at its core." To put it simply: what the UN says matters a lot to the Chinese government.
This is why the events taking place this week in Geneva will matter.
The Committee should stand firm in insisting that no government could possibly guarantee the protection of human rights effectively without fully recognizing the vital role of civil society organizations and human rights defenders in realizing human rights.
As China leaves three years of exhaustion and economic despair caused by its harsh zero COVID controls, it should remember the voice of Dr. Li Wenliang, the whistleblower who first detected the SARS-like virus but was detained and died later of COVID-19 three years ago: "A healthy society shouldn't have only one voice."