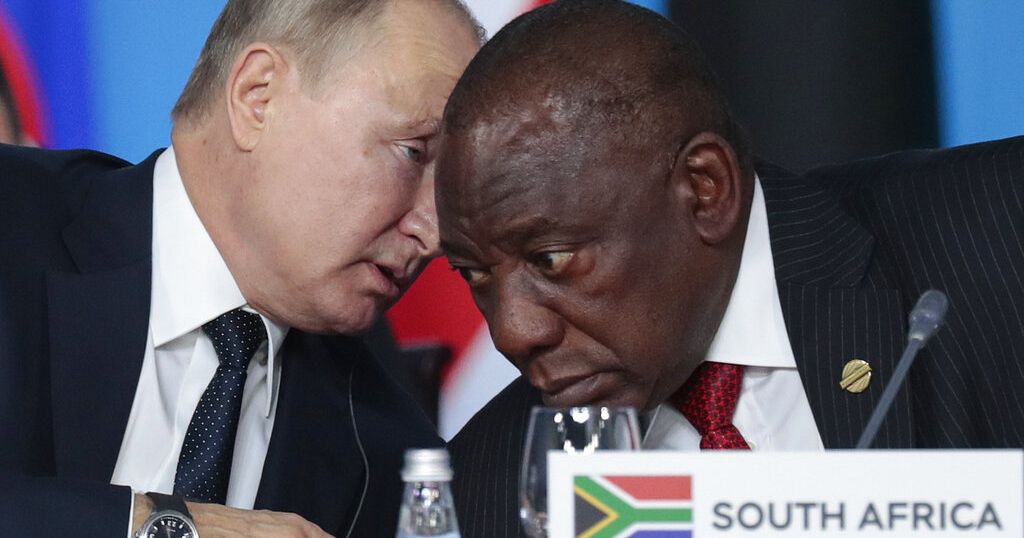 ICC: Putin's arrest warrant worries South Africa | Africanews
Pretoria may be forced to arrest the Russian President in relation to his obligations in relation to international justice, particularly the Rome Statute. Cyril Ramaphosa's government does not hide its concern.
Since the International Criminal Court (ICC) issued an arrest warrant for Russian President Vladimir Putin on March 17 for alleged war crimes in Ukraine, all eyes have been on South Africa.
There is a question on everyone's lips: is the Kremlin's head of state expected to be handed over to international justice on August 24, 2023, on the sidelines of the 15th BRICS summit?
This step remains imaginary. But the subject is the object of tension within South African power.
The arrest warrant "is clearly a matter of concern" declared on 24 March South Africa's Minister of International Relations and Cooperation, Naldei Pandor.
South Africa has been a signatory to the Rome Statute since 1988. Nelson Mandela was the President at that time.
Officials have been recalling both South Africa's non-aligned position on the Russian-Ukrainian conflict and its attachment to the principle of legitimacy as a state.
That's why there is a dispute on the legal side at the moment. "We are awaiting a legal opinion on the matter," said Minister Naldei Pandor in particular.
Omar al-Bashir case
In June 2015, a visit by Omar al-Bashir, the then President of Sudan, shook the country. He was under two arrest warrants from the ICC for genocide and crimes against humanity.
Ten days before the 25th African Union summit, the government of then President Jacob Zuma gave written assurances to all its hosts that they would be covered by the diplomatic immunity attached to their office. But as this summit of heads of state opened in Johannesburg, three judges of the High Court of Pretoria seizing a complaint by the South Africa Litigation Center (SALC) organization had ordered the Sudanese president to stop any departure, the deliberations doing time .
Twenty-four hours later, they demanded the arrest of Omar al-Bashir. But the former president was already on board a plane to Khartoum.
South Africa was called upon by the CP judges to explain itself in The Hague. Civil society accused the government of ignoring the decisions of its own judges.
Since the arrest warrant was issued on 17 March, the ruling party – the ANC – has yet to say anything. He leaves it to the government to find a way out.
For its part, the opposition asked the head of state to refuse to welcome Vladimir Putin.
Like the 123 members of the Court, South Africa has ratified the ICC's statute and will therefore, according to its judges, have an obligation to execute all arrest warrants. The question is divisive nonetheless.
Some claim that a country should respect the immunity of heads of state who have not attended the court. And this is the case of Russia.