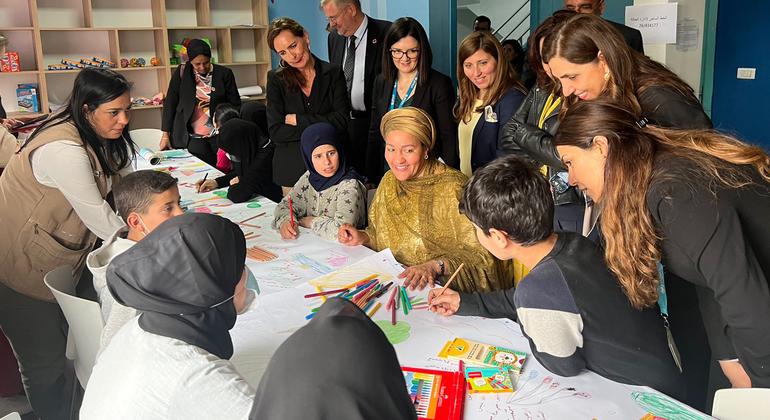 In Lebanon, UN deputy chief explores first-hand, challenges facing children and persons with special needs
She added: "We want to make sure that street children are an issue of the past. That's what we will be working for day-in and day-out."
Recognizing the unprecedented economic hardship that people in Lebanon are facing and renewing the UN's commitment to supporting Lebanon to respond to increasing needs, are two main issues addressed by Ms. Mohammed while on a two-day official visit to Lebanon for the opening of the Arab Forum for Sustainable Development, organized by the UN Economic and Social Commission for Western Asia (UNESCWA). 
On the margins of the forum, Ms. Mohammed made two visits, one to a center for street children and the other to a community kitchen run by women with disabilities, to explore, first-hand, challenges faced by two of the most vulnerable groups in Lebanon as a result of multi-layered crises that have left an estimated 80 per cent of the population residing in the country struggling with multidimensional poverty, which considers dimensions other than income, such as access to health, education and public utilities.
Advocate for children's rights 
While at the UNICEF-supported Drop-in Center for Street Children in Beirut, the Deputy Secretary-General on Monday engaged with the children through an art activity where they expressed in drawings their aspiration for a brighter future. 
"I met today children that come here to learn. They are children and they have dreams. Watching them paint and write what their day should be is quite incredible. But they're also very giving children seeing through their drawings and writings the help they want to offer their families and communities," said Ms. Mohammed. 
A ray of hope 
The Drop-in Center provides psychosocial, medical, educational and social protection support for street-connected children who enjoy easy and safe access to recreational and play activities. It is being operated with support from UNICEF and partners Terres des Hommes Lausanne and Mouvement Social. 
But like everything else in the country, the Beirut center cannot sustain operations without support. 
Ms. Tamam Mroue, Executive Director of Mouvement Social, said they are doing their best to provide all services required to respond to children's needs amidst the difficult circumstances the country is going through, "but, alone, we cannot cater to the growing needs. Work has to be done at the national governmental and policy levels to avert a catastrophe." 
Children protected and cared for 
"Lebanon's crisis is affecting every aspect of children's lives. Investing in children's protection, development and wellbeing is essential to ensure their rights are met under any circumstance. Lebanon cannot afford children to be nutritionally deprived, out of school, in poor health and at risk of abuse, violence and exploitation. Children are an investment, the ultimate investment, in a nation's future," said UNICEF Deputy Representative Ettie Higgins. 
Connecting with other young people and playing in a safe environment are pivotal to children's development and wellbeing. Around 1.8 million children are living in households that are more likely to resort to negative coping measures such as child labour and child marriage. 
"We come here to play, to meet friends and to learn new things," said Rasha, 15 and Hasan, 11.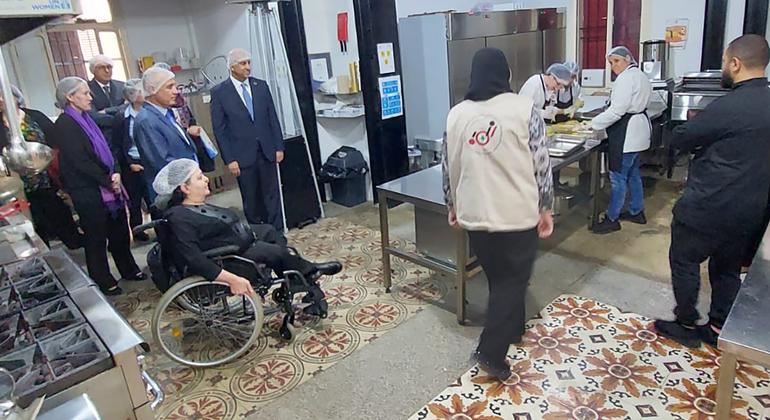 Against all odds 
On Tuesday at Access Kitchen, a UN-Women supported community kitchen set up by the Lebanese Union for People with Physical Disabilities (LUPD), the Deputy Secretary-General engaged with the women and joined them in preparing a meal.  
"In the middle of the misery and complexities of this country, this place is like an oasis, a little piece of paradise," Ms. Mohammed said. "This is a very hopeful place, and we need to do more of these. Women who work here realize their value and learn to become more confident, ambitious, and hopeful."  
Silver Lining 
Women at Access Kitchen feel empowered and worthy. Nour Jammoul, 32, who suffers from paralysis, regained her self-confidence after working here. "Ever since I began working here, my life has changed. I restored hope and became financially independent, productive and responsible for myself. I like this place a lot and I am so happy to be here,"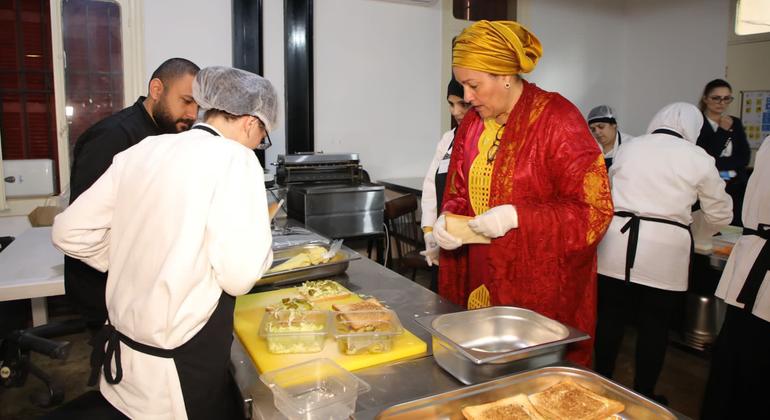 It is estimated that 10 to 15 per cent of the Lebanese population have disabilities – either physical, sensory, cognitive, or mental. In 2018, 61.4 per cent of households in Lebanon were estimated to have at least one member with a disability. Yet, discrimination against persons with disabilities remains deeply entrenched and widespread. Women and girls with disability face stereotyping, stigma and discrimination daily, while Government protections are limited. 
Access Kitchen is part of an effort to create employment opportunities for women with disabilities, the first of its kind in Lebanon. As of mid-January, the women of Access Kitchen have produced over 16,950 meals benefiting 1,822 individuals in the community. Access Kitchen has been supported by UN Women, initially under a joint programme with UNICEF. 
"Behind the courage of those women lies stories of suffering and abandoned responsibilities by the Government. They wouldn't have been in this position had society cared; the Government lived up to its responsibility and the international community managed to solve the problem of places like Syria so that refugees can go home," Mohammed said. 
For Rachel Dore-Weeks, UN Women Representative in Lebanon, women and girls there, including those with disabilities, face multiple discriminations. "This initiative is a way of reminding women with disabilities of their self-worth, bringing them back into the economy and proving to the external world that women with disabilities are a critical part of the community in Lebanon and can contribute to the economy."