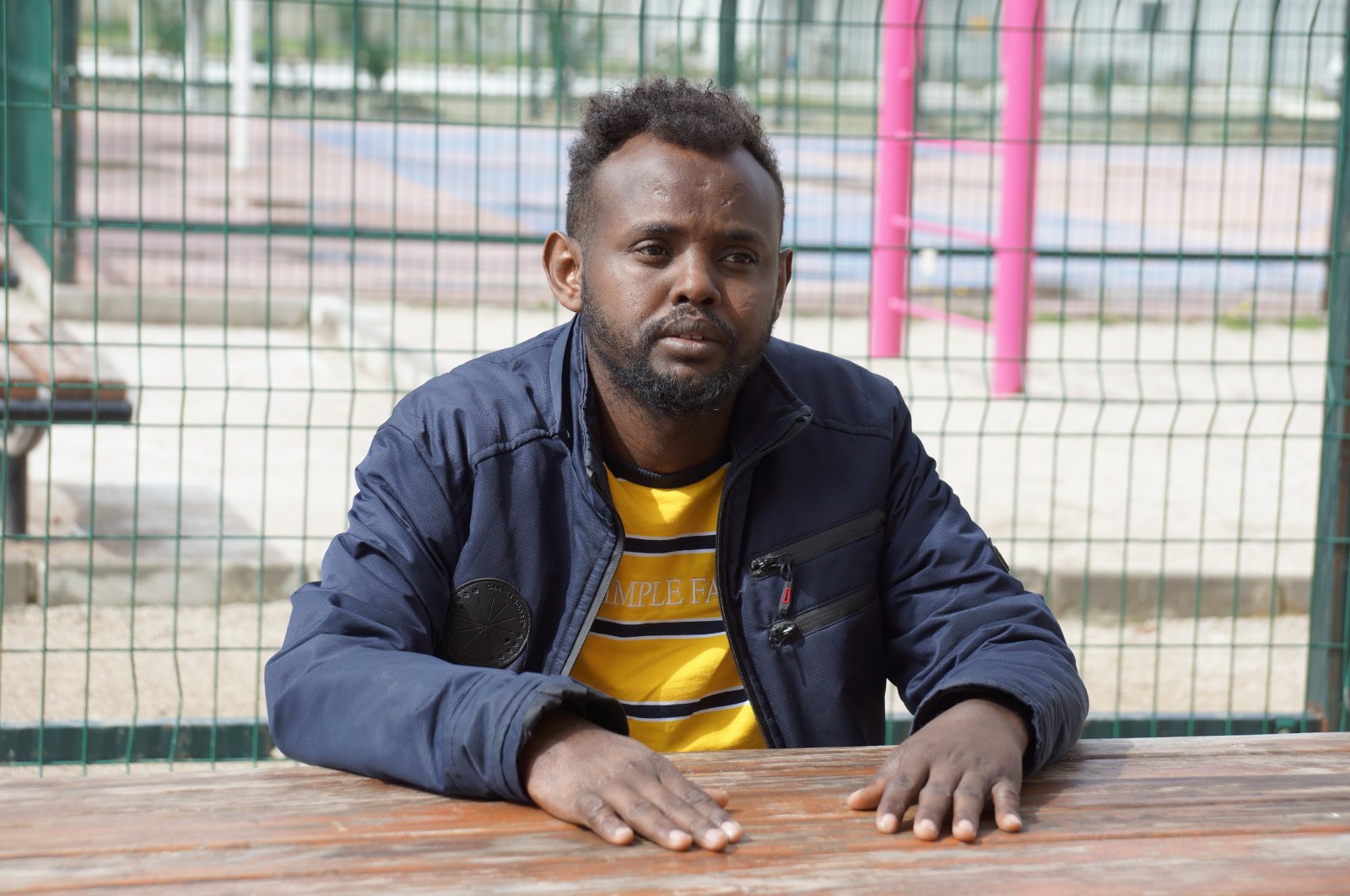 Injured migrant to sue Greece over 'violent' pushback
A refugee who was pushed back by the Greek coast guard while trying to cross the Aegean Sea is planning to file a lawsuit against Greece after he was allegedly stabbed in the back during the ordeal.
Abdullah Mohamed Isaac, 37, was among 35 irregular migrants who were rescued off the coast of Turkey's western Aydin province on March 7 after their lifeboats were pushed back by Greek authorities, which are the easternmost member of Turkey and the European Union. was a frequent occurrence in the dividing waters.
Isaac lived in Turkey's western Izmir province for a year before booking a spot on a lifeboat ferrying migrants like him to Europe illegally.
"We got on board from Kusadasi district and arrived in Greece after three hours at sea," Isaac told reporters from the migrant return center in Aydin, where he was staying after being treated for his wound.
According to Isak, after the migrants reached the shore, their fleet was stopped by five Greek Coast Guard officers, one woman and four men.
"They were all wearing ski masks and took us all to their ship. Then they hit us with iron rods. Two of them beat me with iron rods. I kept crying 'No! stop!' and 'La ilaha illallah.' They abused me for not saying 'la ilaha illallah'. Then they stabbed me and I forgot where I was," Isaac recalled.
"I spoke Turkish, 'abi, tamam,' (okay, brother) but they shouted at me for not speaking Turkish. Then they pulled us into the raft, dragged us out to the open sea and pushed us back ," They told.
Isaac also claimed that Greek authorities confiscated his group's phones and belongings, which were later rescued by the Turkish coast guard.
"They accompanied us to the port, then took me to the hospital. He treated me there. I am grateful to the Turkish government; He took very good care of me. He helped me a lot and cured me of my health.
"The Greeks stabbed me and I want to press charges. I will file a complaint. They treated us very badly. We are human beings and they didn't treat us like that. They treated us like animals. That's why I went to Greece." Want to sue.
Greece has long come under fire for its illegal, often inhumane and sometimes deadly practice of pushback – the summary deportation of migrants without permission to apply for asylum.
The Greek government denies all allegations, despite claims to the contrary from alleged victims, rights groups, Turkish drones and even the UN Special Envoy on the Human Rights of Migrants.
Felipe González Morales, the UN special envoy on the human rights of migrants, said last year that "in Greece, pushing and shoving across land and sea borders has actually become normal policy."
Similarly, many in the international community, including Türkiye, which attracts illegal migrants from around the world for being an important gateway to Europe, have often criticized this practice under international law as endangering the human values ​​and lives of vulnerable migrants. condemned as a violation of
While the Turkish Coast Guard has come to the rescue of thousands After being turned back by Greek authorities, countless others died at sea as boats filled with refugees sank or capsized, particularly in the Aegean Sea.
The International Organization for Migration (IOM) last year recorded nearly 2,000 migrants dead or missing in the Mediterranean. A report by Turkey's ombudsman institution said in July 2022 that Greece had repatriated around 42,000 migrants since 2020. Between January 1 and December 16, 2022, the Aegean Command Station of the Turkish Coast Guard Command rescued 47,498 irregular migrants in 1,550 separate cases. areas of jurisdiction, of which more than 18,000 were victims of Greece's pushback policy.
In the early months of 2023 alone, Greek coast guards turned back hundreds of migrants trying to cross the Aegean, causing at least nine deaths in two separate shipwreck Last week near the western coasts of Turkey.
Athens consistently dismisses the allegations, despite abundant expatriate evidence, media evidence and international scrutiny. The government of Greek Prime Minister Kyriakos Mitsotakis has vowed to make his country "less attractive" to asylum seekers since coming to power in 2019.
Greece is also accused Deliberately collaborating with the EU border protection agency Frontex in its crackdown on migrants at its bordersThe collusion of which was confirmed by several media reports and an investigation by the European Anti-Fraud Office (OLAF) in early 2022.
Meanwhile, pro-migration humanitarian groups in Greece have been Lamenting the Greek government's "harsh anti-migration stance" and waging a "witch-hunt" against the refugees as well as their defenders, forcing some campaigners to turn away from the conflict altogether.
Last November, a lawyer who previously worked with a non-governmental organization (NGO) to help pushback victims said she had to do less legal work because of dozens of Syrians being involved in a particularly sensitive case. Mila, who had previously been stranded on the Greek-Turkish border. 2022.
Some 50 humanitarian workers currently face prosecution in Greece, following a trend in Italy that has criminalized even the provision of aid to migrants.
refugee rally
However, there is increasing resistance in the country against Greece's harsh policies.
Hundreds of refugees gathered for a protest in Athens on Saturday, accusing the government of "murdering" asylum seekers through pushback.
One of the banners at the rally in front of Parliament read, "Stop jostling with the government of murderers." Another read, "The blood of the innocent cries out for justice."
Some protesters held up the dates of the sinking of migrant boats in the Aegean Sea.
Other protesters made a link between the migrant deaths at sea and the February 28 train tragedy, which killed 57 people and blamed the Mitsotakis government.
"Mitsotakis, you have blood on your hands – dead children in the sea, dead children on trains," he said.
Since taking office four years ago, Greece's conservative government has further strengthened its land and sea borders with Turkey to prevent illegal arrivals.
Police Minister Takis Theodorikakos said this week that a contract would be signed "in the coming days" to plan a 35-kilometre (22-mile) extension to the country's steel fence on its border with Turkey.
In the latest incident in Greek waters, a woman and a man died in March after a speedboat with about 30 people on board capsized near the island of Kos.
A month earlier, a woman and a man drowned when a boat carrying 41 refugees crashed on a rocky shore on the island of Lesbos.
The European Union has said it is working with the United Nations and the African Union to arrange voluntary returns to countries of origin, and to move refugees to camps before being resettled in the EU or elsewhere .
In January, European Commission chief Ursula von der Leyen said the EU planned to strike migration deals with countries such as Bangladesh, Pakistan, Egypt, Morocco, Tunisia and Nigeria "to improve returns and prevent departures". Is.
Migration Minister Notis Mitrachchi said this week that Greece has repatriated more than 8,000 people over the past two years in cooperation with the International Organization for Migration.
,