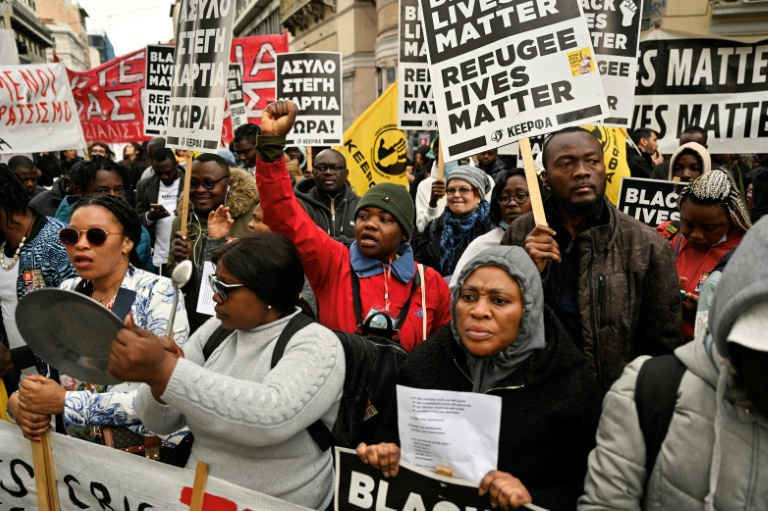 Refugees Protest Tough Greek Migration Policy
Hundreds of refugees protested in Athens on Saturday against Greece's harsh migration policies, accusing the conservative government of "murdering" asylum seekers through illegal pushbacks.
One of the banners at the rally in front of Parliament read, "Stop jostling with the government of murderers." Another read "the blood of the innocent cries out for justice."
Some protesters held up the dates of the sinking of migrant boats in the Aegean Sea.
Other protesters made a link between the migrant deaths at sea and the February 28 train tragedy, which killed 57 people, and blamed the government of Prime Minister Kyriakos Mitsotakis.
"Mitsotakis, you have blood on your hands – dead children in the sea, dead children on trains," he said.
Since taking office four years ago, Greece's conservative government has strengthened its land and sea borders with Turkey to prevent illegal arrivals.
Police Minister Takis Theodorikakos this week said a contract would be signed "in the coming days" to plan a 35-kilometre (22-mile) extension to the country's steel fence on the border with Turkey.
In the latest incident in Greek waters, a woman and a man died in March after a speedboat with about 30 people on board capsized near the island of Kos.
A month earlier, a woman and a man drowned when a boat carrying 41 asylum seekers crashed on a rocky shore on the island of Lesbos.
The European Union has said it is working with the United Nations and the African Union to arrange voluntary returns to countries of origin, and to move refugees to camps before being resettled in the EU or elsewhere .
In January, European Commission chief Ursula von der Leyen said the EU had partnered with countries such as Bangladesh, Pakistan, Egypt, Morocco, Tunisia and Nigeria to "improve returns … and to prevent departures". deal is planned.
Migration Minister Notis Mitrachchi said this week that Greece has repatriated more than 8,000 people over the past two years in cooperation with the International Organization for Migration.
The Greek government has consistently denied allegations of pushback, despite contrary claims from alleged victims, rights groups and even the UN Special Rapporteur on the Human Rights of Migrants.
Felipe González Morales, the UN special envoy on the human rights of migrants, said last year that "in Greece, pushing and shoving across land and sea borders has actually become normal policy."