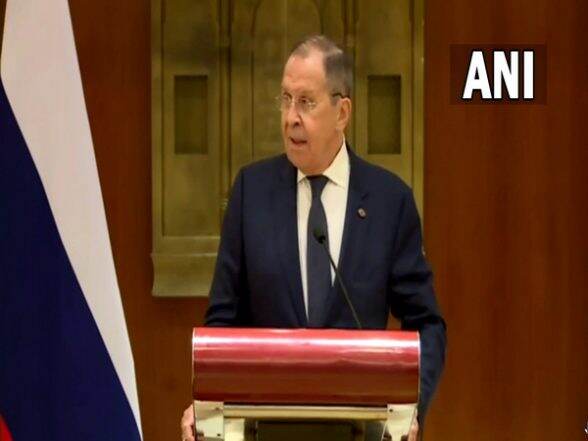 Russia Foreign Minister Sergey Lavrov Calls for Reforms in UNSC | LatestLY
New Delhi, March 2: Russian Foreign Minister Sergei Lavrov said on Thursday that it is the right time to reform the UN Security Council. Addressing a press conference in Delhi, Lavrov said, "…it is high time to reform the UN Security Council."
"..we don't feel isolated. The West is now isolating itself. If the West is so democratic why can't they apply democratic principles internationally?" G-20 foreign ministers meeting Russia will deepen economic ties with China; Foreign Minister Sergei Lavrov says 'it will decide how to deal with the West'.
"…It is in the UN Charter that every state must respect the sovereignty and territorial integrity of another state," he added. Read this also | G20 Summit 2023: Russia, China reject attempts of foreign interference in domestic affairs.
Lavrov also said that according to the West, this invasion of Ukraine reflects a response to the war that the West had been preparing for many years, which is why it was arming the Ukrainian regime.
Addressing the presser, Lavrov said the West refused to include Russia's proposal on the need to investigate the Nord Stream explosions in the G20 final declaration, according to Sputnik news agency.
"They [Western countries] In this context, it also refused to accept another fact, which reflects the events that have happened since then. I'm talking about the terrorist act against the Nord Stream gas pipelines. Our proposal to include in the document the requirement for a fair and honest investigation was categorically rejected by our Western partners," Lavrov said.
The minister said that the West insisted on reintroducing the same text adopted last year with reference to the situation in Ukraine.
"The West insisted on reproducing the text on the situation around Ukraine, which was agreed upon last year at the G20 summit in Bali, completely ignoring our arguments that a lot of events have happened since then. Including the honest confession of Smt. [ex-German Chancellor Angela] Merkel, Mr. [former French President Francois] Holland, Mr. [ex-Ukrainian President Petro] Poroshenko, and [Ukrainian President Volodymyr] Zelensky himself said that none of them was going to fulfill the Minsk agreements and that the purpose of signing the Minsk agreements, from the point of view of Western interests, was to pump Ukraine with weapons and have time to prepare for war against Russia. was to be achieved," Sputnik quoted Lavrov as saying.
He also said that a final declaration could not be agreed upon because of disputes among G20 members over the Ukraine conflict. Russian Foreign Minister Sergei Lavrov said participants at the G20 foreign ministers' meeting in New Delhi agreed that the African Union should become a permanent member of the G20.
(This is an unedited and auto-generated story from syndicated news feeds, the content body may not have been revised or edited by Latest Staff)