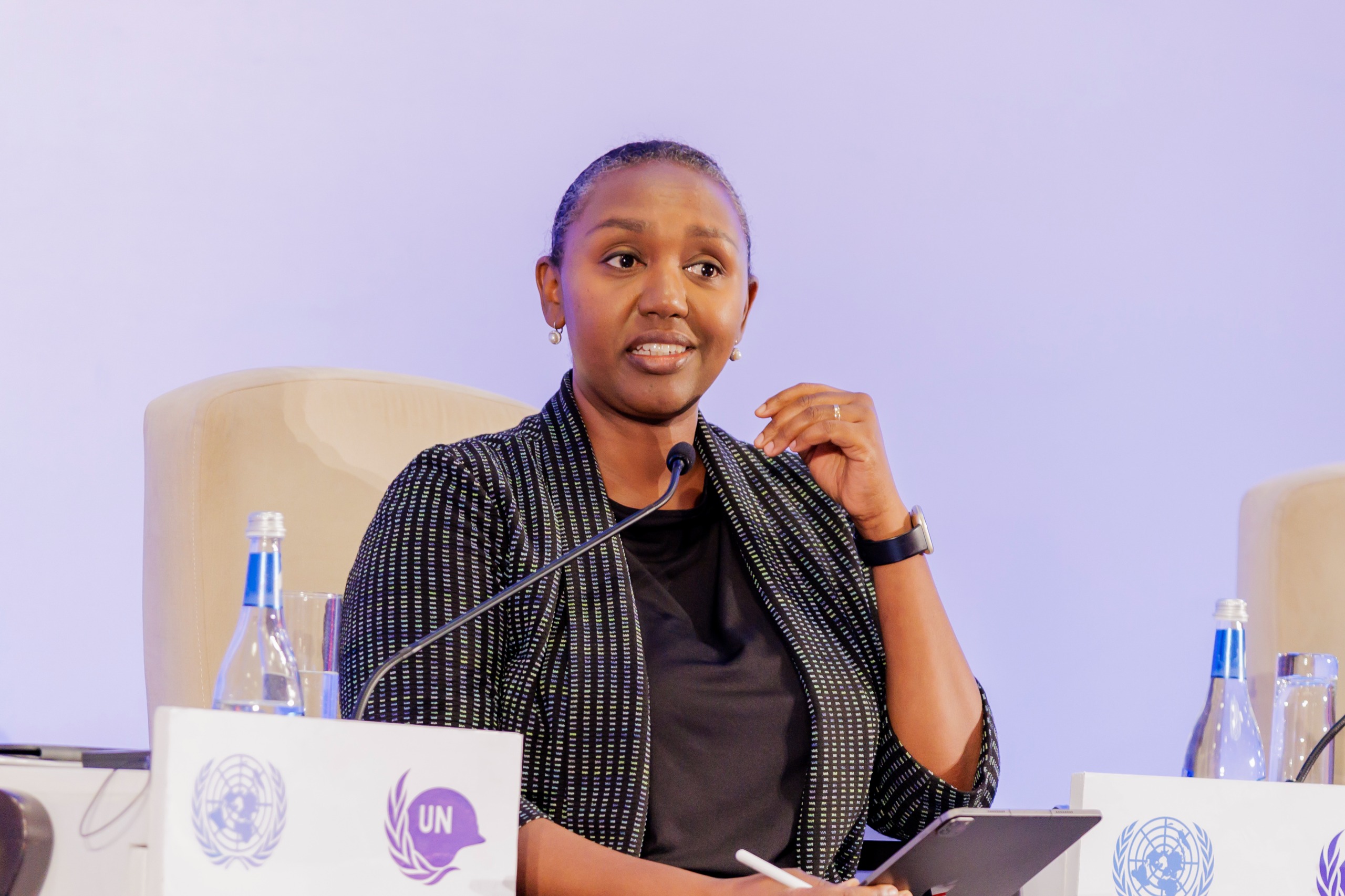 Rwanda Remains A Safe Place For Refugees, Asylum Seekers- Gov't Spokesperson
Rwanda will continue to play its role as a safe place for people, especially refugees and asylum seekers from across the globe looking for a place to call home. That is regardless of a recent court decision in the UK that purportedly deemed the country 'unsafe' for refugees.
In a recent interview, Government Spokesperson, Yolande Makolo, said the country cannot be deterred by different opinions from elsewhere because Rwanda and Rwandans know what it means to be a refugee or asylum seeker, and cannot abandon those in dire need for safety.
The Government of Rwanda last week slammed the Supreme Court ruling, pointing out that while the decision was ultimately a U.K issue, Rwanda was concerned with the allegations that the country is unsafe, yet currently Rwanda hosts thousands of refugees from other countries.
Makolo said, from their own experience, Rwandans have been refugees for 30 years from 1959 and the post-1994 Genocide against the Tutsi which saw millions more displaced to different neighbouring countries and beyond but later came back.
"Rwandans know what it is to be on the move, or to be displaced, just because of the history of our country," Makolo said, reiterating why the country maintains an open policy for refugees, asylum seekers and other categories of people in need of safety.
"In the last almost 30 years, we've welcomed a lot of refugees to Rwanda. We have over 130,000 refugees who live here, mostly Congolese and Burundians, and in smaller numbers people from elsewhere on the continent and beyond,"
"We are not new to this kind of situation where people are coming in seeking safety and opportunity. We have we partnered with the UNHCR and the African Union to evacuate migrants, mostly Africans, who were stuck in Libya when the war started,"
She pointed out that since 2019, Rwanda has received close to 2,000 Africans rescued from precarious conditions in Libya and their needs, including shelter, healthcare and meals are taken care of in Gashora Emergency Transit Camp, in Bugesera district, as they wait to be resettled to other countries.
While at the centre, they receive language and vocational skills training to prepare them for the next phase of life.
Similarly, Makolo said Rwanda has received members of the School of Leadership of Afghanistan (SOLA), that first Afghan girls boarding school, who moved from Kabul to Rwanda for their own safety after the Taliban swept to power in 2021, all of which goes to show that Rwanda is safe.
"They've been here, close to two years and they live amongst us and the school started running immediately when they got here, and they're bringing in new Afghani girls from refugee camps all over the world to join the school,"
"Rwanda is a welcoming country; we have been for decades now. We also have people come here to go to school or to start businesses. And we are open to that. Our migration policy is quite open," the Government Spokesperson said.
Makolo pointed out that Rwanda as a country believes in free movement of people, hence the open visa and visa on arrival policy for Africans, members of the Commonwealth and others looking to come into the country.
She pointed out that this is a vision Rwanda shares with other countries under the African Union -to make the continent accessible for those wishing to come to compete for the opportunities Africa has to offer and develop along with others.
UK asylum seekers will have a choice
Regarding the issue of refoulement, Makolo allayed fears that asylum seekers relocated from the UK will not have a choice, pointing out that among other choices, Rwanda and the UK have been working together to ensure that they are integrated in the Rwandan society.
"They will have a choice to live here with us and work. They will be facilitated to do that. With the partnership that we're working on with the UK, we will ensure that they get these opportunities there, they will receive the safety that they need and they will get training in language and other skills,"
"They will be able to go to school and they will live amongst us in Rwanda if they do want to go back home. We will not be deporting anyone or sending people back to dangerous situations, but they will have a choice to go back home if they want to," she said.
Under the revamped UK-Rwanda Immigration framework which the two countries are reworking, following the court decision, the asylum seekers will be integrated in Rwanda, offered opportunities, including education and a legal path to residency or citizenship.
Like any other country, Makolo said Rwanda is still dealing with challenges including inflation, increased cost of living but the government is working around the clock to cushion citizens and anyone else living in Rwanda from these shocks.
However, these are not reasons Rwanda shouldn't be stepping in the gap when the need arises, especially in regard to global migration challenges which have left hundreds of thousands of people from across the globe making perilous journeys in the name of seeking better life abroad.
"We're not the only country facing these challenges," she said, adding that the government is working with partners, including the UK, to address these issues and with the right investments in the program, the challenges will be addressed over the next five years.
"We are happy with the progress that we have made but we're not there yet. We will continue to work even as the debate on migration reaches around the world. We're busy doing the work that we've all done," she said, adding that both Rwanda and the UK are determined to make the arrangement work.
Regarding the issue of refugees relocated from Israel in 2017, Makolo said that they voluntarily left but if there were any issues then, lessons were learnt and that can be confirmed by how the refugees and asylum seekers from Libya have been handled.
Makolo said that the UK-Rwanda partnership is seen as a model that can salvage thousands of young people, men, women and children from making desperate journeys across seas looking for safety as asylum seekers or economic opportunities.
"We want to offer both [safety and economic opportunities] here and we want to do it in a way that makes sense and corrects the imbalance in opportunities between the global south and the north," she said, adding that it would also remove the perception that opportunities are in the north.
"We don't want to lose people to these desperate journeys across the Sahara and across the Mediterranean Sea. We're losing brain power in Africa. We want young Africans to remain here and to build the continent,"
"We want to build these opportunities here. We want people to come and live with us here, to build these opportunities and to benefit from the opportunities and make this a place of opportunity, a continent of opportunities," Makolo said.
She pointed out that Rwanda has successfully that it is one of the safest countries for refugees as it has been attested by those who were evacuated from Libya, some of whom viewed being relocated to Rwanda as a dream come true, compared to the situation they were in before.
Makolo says that if the partnership with the UK works out as expected, it will be a solution to the global migration challenges, resulting from recent upheavals across the world which have led to many people fleeing their countries, posing a challenge for others, with no immediate solution in place.
Following the court ruling in the UK, British Prime Minister Rishi Sunak said on Monday he was 'completely' committed to his government's scheme to send asylum seekers to Rwanda.
"I'm completely committed to doing what is necessary to get those flights off and that scheme up and running," he said in response to a question following a speech in London.
Among other things, PM Sunak said his government was working with the Rwandan government to reinforce the treaty and make it even more comprehensive.
On her part, Government Spokesperson Makolo said they alleged concerns will be allayed in the revised treaty, reiterating Rwanda's commitment to play her part.
"What I can say about the treaty that we are working on right now is that we reinforce the guarantees that are in the MOU's. So, it'll be the provisions already there. The reinforcing of these guarantees in the treaty will address the concerns of the court and will reassure anyone who has any worries about asylum seekers being sent back to the country that they came from,"
"Those are being addressed or they've already been addressed in the MOU. They will just be reinforced in the treaty," she said, adding that it is not to confirm that the fears raised by the court were real but rather an effort to give more assurances to those still in doubt.
Regarding rule of law, Makolo said that it is entirely a different issue because the laws in the country apply to nationals and non-national, pointing out that there are no exceptions when it comes to breaking the law.