State of the Order: Assessing September 2023
Reshaping the order
This month's topline events
Ukraine's Continued Counteroffensive. The Ukrainian army continues to make incremental advances in its counteroffensive against Russia in key regions and has ramped up longer-range attacks on Russian targets in Crimea and elsewhere. NATO's Secretary General Stoltenberg, speaking at a joint press conference with Ukraine's President Volodymyr Zelensky, confirmed that Ukrainian forces are "gradually gaining ground" against Russia. Faced with Ukrainian military gains and dwindling munition stores, Moscow has pursued various means to strengthen its military posture, including engaging North Korea to procure artillery shells and planning to increase its 2024 defense budget by nearly 70%, which the Russian Ministry of Finance said is a "significant strain on our budget" but "our priority." Domestically, Zelensky has taken steps to root out corruption that might hinder Western support including, most recently, ousting Deputy Defense Minister Hana Maliar. US and allied support to Ukraine continued, despite opposition among some in Congress and a Polish-Ukrainian dispute over Ukrainian grain sold in Poland. Despite inconsistent signals, the Biden administration is reportedly prepared to provide Ukraine with long-range ATACMS missiles, which will boost Ukraine's offensive capabilities. US Secretary of State Antony Blinken traveled to Ukraine and pledged over $1 billion in additional aid. The aid package includes provisions for equipment to clear Russia-laid mines, which have impeded Ukraine's counteroffensive, as well as $203 million in funding to address corruption and elite capture within Ukrainian institutions.
Shaping the order. Ukrainian's counteroffensive could shift the strategic balance of the war if its forces can advance enough to put Russian supply lines in southern Ukraine and to Crimea at risk. Intensified US and allied support could make an important difference as the battle hangs in the balance. Ukraine's success, even a relative success, would strengthen advocates of a rules-based order and mark a major defeat for the most virulently aggressive great power challenger to that order.
Hitting home. The counteroffensive's outcome, fairly or not, may shape US and allied confidence in Ukraine's ability to succeed in its fight for national survival and could inform the sustainability of allied and even US support for Ukraine. As the United States heads into a contentious presidential election season, US aid to Ukraine is already an issue.
What to do. The United States and its allies, regardless of the changing tide of politics brought by elections, must remain resolute in their support of Ukraine and resist short-term thinking. US military support for Ukraine has been impressive but marred by slow decision-making about supplying advanced weapons systems to Ukraine. Given the military balance, the US should be forward-leaning.
Azerbaijan dismantles Nagorno-Karabakh. Almost 20 years after losing control of its mostly-ethnic Armenian territory of Nagorno-Karabakh to Armenian forces, Azerbaijan launched a military attack in Nagorno-Karabakh that decisively defeated forces of the breakaway province. The small enclave had been the subject of extensive and fruitless negotiations including the US, France, and Russia, which had generally been regarded as Armenia's protector; Azerbaijani and Armenian leaders had also participated in efforts to settle the conflict. Azerbaijan retook much of Nagorno-Karabakh in 2020. With Russia preoccupied by its war in Ukraine, Azerbaijan, generally supported by Turkey, felt able to finish the job of reclaiming the territory. It began blockading Nagorno-Karabakh by closing the Lachin Corridor, which serves as the sole lifeline road connecting the enclave to Armenia. Azerbaijan further isolated Nagorno-Karabakh by shutting off energy supplies and internet access and finally launched an assault in September. In its aftermath, Azerbaijani leader Ilham Aliyev promised that the ethnically Armenian Nagorno-Karabakh population will be safe, as Azerbaijan citizens. But many and perhaps most ethnic-Armenians are fleeing to Armenia under terrible humanitarian conditions, including reports of ethnic cleansing, mass murders, and other atrocities. It is unclear if Azerbaijani forces have ended their assault; they could extend attacks to include incursions into Armenian territory.
Shaping the order. The long conflict in Nagorno-Karabakh has defied US and other Western-led efforts, persistent but usually second-order, to broker a settlement. It additionally demonstrated the limits of outside powers to ameliorate, much less settle, regional disputes with limited resources and leverage. While the latest turn in Nagorno-Karabakh is a blow to US efforts, Russia has not necessarily benefited from the current situation. Long viewed as Armenia's protector, Russia appears to have lost credibility in Armenia.
Hitting home. Azerbaijani attacks on Armenia could trigger a humanitarian catastrophe even beyond what appears to be unfolding, as ethnic-Armenians flee Nagorno-Karabakh. Azerbaijan is a major oil and gas producer and transit corridor for Central Asian energy flowing West and the US has tried to balance its concerns about Aliyev's dictatorial rule with its economic interests. Intensified war would make this harder.
What to do. The United States and its European allies and partners must push Azerbaijan and Turkey to work to prevent a humanitarian catastrophe. This may require limited cooperation with Russia, which has long invested in this conflict, for the sake of saving lives and promoting regional stability. In the long term, the US should support Armenia in the post-Nagorno-Karabakh period. If Azerbaijan feels it has restored its territorial integrity, it and Turkey may be willing to ease pressure on Armenia and, in the best case, lift Turkey's long isolation of Armenia.
Frayed Canada-India Relations. Canadian President Justin Trudeau accused the Indian government of murdering Hardeep Singh Nijjar, a Sikh activist, on Canadian soil. Prior to his murder, Nijjar was a member of a Sikh separatist group that was deemed a terrorist organization by the Indian government following civil unrest in the 1980s. The news sent shockwaves throughout the international community, instigating ire and denial from India, and relative silence and inaction from other Western allies. India-Canada relations quickly deteriorated. India stopped issuing new visas for Canadians, and both countries expelled each other's high-level diplomats. While allies, like the UK and the US, have expressed concerns over the allegations and urged India to cooperate with the Canadian investigation, they are so far opting to keep a low profile at least until the investigation draws to a close.
Shaping the order. This situation poses a difficult dilemma for the United States. Just months ago, the Biden administration hosted Indian Prime Minister Narendra Modi and reinforced its bilateral commitment to cooperation across several key sectors, including security. Much of the West considers India an ally in continued efforts to combat the regional and international influence of China. As a democracy, albeit with flaws, India seemed a natural partner in seeking to uphold a rules-based order that favors democracy. An India that murders those it considers enemies would be a more problematic partner. The tension between values and more immediate strategic calculations has risen in the case of India.
Hitting home. This dilemma is similar to the one between the United States and Saudi Arabia following the violent murder of journalist Jamal Khashoggi. Ultimately, after much international turmoil and contention, the United States effectively gave the Saudi government a pass in order to protect bilateral relations that prioritize security cooperation and access to energy stores.
What to do. The Indian government's democratic backsliding, potential human rights abuses, and domestic disputes may sully the fragile and still-blossoming relationship between India and several Western powers. The Biden administration must gauge how it will draw moral and ethical lines with India while leveraging its position to continue deterrence efforts against China. The Biden administration will need to develop a policy, and find public language, to integrate, albeit imperfectly, the conflicting objectives of strategic cooperation and values-based relations.
Quote of the Month
"Democracy is under threat. Authoritarianism is on the march. Inequalities are growing… Our world needs statesmanship, not gamesmanship and gridlock… It is time for a global compromise. Politics is compromise. Diplomacy is compromise. Effective leadership is compromise. Leaders have a [special] responsibility to achieve compromise in building a common future of peace and prosperity for our common good."
– UN Secretary General's Address to the UNGA, September 19, 2023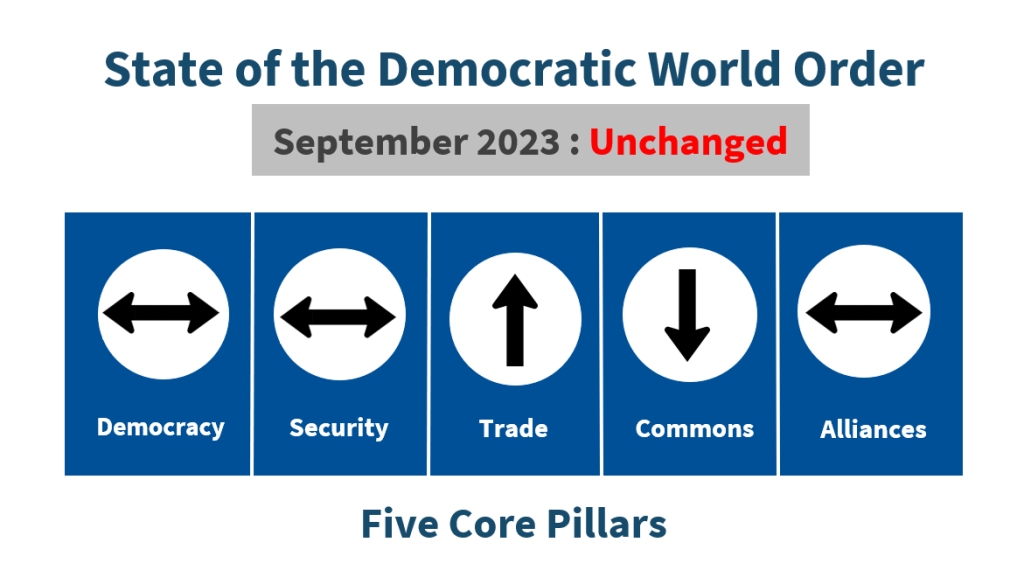 State of the Order this month: Unchanged
Assessing the five core pillars of the democratic world order    
Democracy (↔)
In an attempt to create the allusion of democracy, Russia is staging "elections" in occupied Ukrainian territories. Kremlim-approved United Russia candidates, the Russian ruling party that backs President Vladimir Putin, are expected to dominate the rigged elections in the Russian-controlled Ukrainian regions of Kherson, Zapirizhzia, Donestk, and Luhansk.
A Chinese court sentenced Rahile Dawut, a leading scholar of Uyghur traditional culture who disappeared in late 2017, to life in prison for "splittism", or endangering China's state security. State documents reveal that Dr. Rahile made attempts to appeal her case in 2018, but was rejected.
Burkina Faso's intelligence and security services said they thwarted a coup attempt against Ibrahim Traoré, the country's president, who himself obtained power through a coup just the year prior.
South Korean opposition leader Lee Jae-Myung was arrested and charged with breach of trust, bribery, and other similar crimes. The charges follow a 149-136 National Assembly vote that lifted his immunity, where dozens of members of Lee's party likely voted against him. Jae-Myung, who was recently hospitalized following a hunger strike in protest of President Yoon Suk Yeol's government, denies any wrongdoing.
As a result of increasing instability in the Sahel, African leaders across the continent are acting to "coup-proof" their governments and militaries. Some leaders, such as Cameroonian President Paul Biya—who has been in power for four decades—appointed several security advisers to their Ministries of Defense. Others, like Rwandan President Paul Kagame—who has maintained power for over two decades—forcibly retired dozens of generals and hundreds of senior officers.
In exchange for the release of $6 billion in frozen funds and five Iranians in US custody, Tehran freed five Americans who had been imprisoned in Iran on trumped-up charges. While Tehran alleges that it has the flexibility to use the $6 billion backing the prisoner exchange on whatever it pleases, the Biden administration emphasizes that the purpose of the funds is limited to non-sanctionable purchases, such as food and medicine, and will be subject to strict oversight by the US.
On balance, the democracy pillar was unchanged.

Security (↔)

US National Security Adviser Jake Sullivan met with his Chinese counterpart, Wang Yi, and other top diplomats in Malta as part of continued bilateral efforts to "thaw" tumultuous relations between the two powers. Much like other recent US-China talks, the two sides committed to "additional high-level engagement and consultation" in key strategic areas. Officials in attendance noted that while there were discussions of re-establishing military-to-military dialogue, Chinese officials offered "limited indications" of receptiveness.
Chinese Defense Minister Li Shangfu, who had not made a public appearance since August, was detained by authorities for questioning. China's Ministry of Defense has not commented on the detainment, and the Foreign Ministry claims to be unaware of the situation. Meanwhile, US officials claim that Li was removed from his post. In July, the former Foreign Minister, Qin Gang, was similarly removed from his post after a month-long disappearance.
The Dominican Republic closed all its shared land, sea, and air borders with Haiti. This move follows continued disputes between the Dominican Republic and Haiti over the construction of a canal on Haitian soil that would tap water from a shared river between the two states.
The Biden administration announced that it plans to redirect $85 million in military aid from Egypt to Taiwan. The decision comes as a result of heightened concerns about human rights abuses by Egypt, including the treatment of political prisoners.
In his first international trip in nearly five years, North Korean leader Kim Jong Un traveled to Russia to meet with President Vladimir Putin. The pair met to discuss arms negotiations, including Russia's bid for much-needed artillery ammunition. In turn, North Korea seeks assistance in modernizing its weapons technologies, as well as food and energy shipments.
Japan's Ministry of Defense asked for $53 billion (7.7 trillion yen) in spending for the upcoming 2024 fiscal year, marking a record-breaking 13% increase in defense spending. This is part of Prime Minister Fumio Kishida's aim to boost the country's military spending by 43 trillion yen by 2027 as it faces increased aggression from China and North Korea.
French President Emmanuel Macron announced that France will withdraw its remaining troops in Niger, effectively ending its military presence in the West African state. Niger's junta responded that the withdrawal is a "new step towards the sovereignty" of the country, but international concerns mount over the governance gap that will ensue and the potential for terrorism and insurgency to rise.
On balance, the security pillar was unchanged.

Trade (↑)

China's National Development and Reform Commission announced that it would establish a governing body to support the country's private sector. This is widely viewed as an attempt for the nation to energize its slowing economic prospects and shore up confidence among international investors concerned.
The US State and Treasury Departments announced sanctions on over 150 foreign entities accused of circumventing international sanctions and providing support to Russia. The entities sanctioned are primarily involved in the construction, oil, gas, and financial sectors. This is a continuation of the US-led push to cut off the flows of goods Russia needs to sustain its assault on Ukraine. Sanctions evasion by Russia and sanctions enforcement will continue.
The United States and China created two bilateral working groups to tackle economic and financial issues. The first, dubbed the "commercial issues working group" tackles conflicts surrounding trade and technology, while the second, titled the "financial working group" tackles regulatory and financial stability concerns.
On balance, the trade pillar was strengthened.

Commons (↓)

Devastating flooding in eastern Libya left over 11,000 dead and tens of thousands more missing or displaced. The collapse of two dams sent 20-foot waves crashing through several towns. Reports indicate the dam collapses resulted from neglect and mismanagement.
Morocco was rocked by a 6.8 magnitude earthquake, the strongest to hit the nation since 1960. Damage left 3,000 dead, with thousands more displaced or missing. Nearly half of the fatalities originated from the province of Al Haouz, a string of remote villages and settlements located south of the earthquake's epicenter.
In a first-of-its-kind case, six young Portuguese citizens ranging from ages 11 to 24 filed a lawsuit against 32 governments for their inaction in combatting the climate crisis, including failure to reach the Paris Agreement target of containing global warming to 1.5 celcius. Countries listed in the lawsuit include the entirety of the EU, the UK, Norway, Russia, Switzerland, and Turkey. None of the plaintiffs seek financial compensation.
A study in the journal Nature concludes that the recent string of wildfires significantly reduced—and, in some US states, effectively reversed—decades of improvements in US air quality since the 1970 passage of the Clean Air Act.
On the sidelines of the UNGA, the United States and 31 other Atlantic Countries—including several across the Global South—adopted the Declaration on Atlantic Cooperation to launch the new Partnership for Atlantic Cooperation. The Partnership is a foundation for increased US engagement with the Global South around noncontroversial transnational issues, such as climate and oceanic sustainability.
On balance, the global commons pillar was weakened.

Alliances (↔)

World leaders convened in New York for the 78th session of the United Nations General Assembly. President Joe Biden was the only UN Security Council leader in attendance, with the rest—Xi Jinping, Vladimir Putin, Rishi Sunak, and Emmanuel Macron—choosing to skip the event.
Leaders from around the world convened for the annual G20 Summit in New Delhi. Unsurprisingly, Presidents Xi Jinping and Vladimir Putin were absent. This marks the first G20 Summit that Xi has not participated in since assuming the Chinese Presidency in 2013. The Summit ended with the welcoming of the African Union, representing over 1 billion people, into the group. The G20 statement included language that was generally on Ukraine's side in Russia's war of aggression against it but weaker than the 2022 G-20 statement on the same topic.
At the G20, the US, India, Saudi Arabia, and other powers announced plans to establish a transit corridor to connect Europe, the Middle East, and Asia. This initiative is part of the US-led Western push to create attractive alternatives to China's Belt and Road Initiative.
President Joe Biden traveled to Vietnam as part of his administration's efforts to increase engagement with other Asian powers to combat regional Chinese influence. While no formal alliances were announced, the US pledged initiatives to expand Vietnam's semiconductor production base, as well as various other investments in trade.
On balance, the alliance pillar was unchanged. 

Strengthened (↑)________Unchanged (↔)________Weakened (↓)

What is the democratic world order? Also known as the liberal order, the rules-based order, or simply the free world, the democratic world order encompasses the rules, norms, alliances, and institutions created and supported by leading democracies over the past seven decades to foster security, democracy, prosperity, and a healthy planet.

This month's top reads

Three must-read commentaries on the democratic order     

Ash Jain, in Foreign Policy, assesses the six schools of thought US leaders and practitioners fall into in their pursuit of foreign policy strategies: unilateral internationalists, democratic internationalists, realist internationalists, multilateral internationalists, retractors, and restrainers.
Howard French, in Foreign Policy, argues that the Biden administration's lack of strong response to the allegations of the Indian government's involvement in the assassination of a Sikh leader on Canadian soil weakens Washington's global credibility.
Dominic Tierney, in Foreign Affairs, asserts that transatlantic disagreements are helpful guardrails in restraining Washington's more dangerous impulses, deterring China from fully allying itself with Russia, and guarding Europe's position as a capable power and partner to Washington.

Action and analysis by the Atlantic Council

Our experts weigh in on this month's events

__________________________________________________

The Democratic Order Initiative is an Atlantic Council initiative aimed at reenergizing American global leadership and strengthening cooperation among the world's democracies in support of a rules-based democratic order. Sign on to the Council's Declaration of Principles for Freedom, Prosperity, and Peace by clicking here.

Patrick Quirk – Director for Democratic Order
Dan Fried – Distinguished Fellow
Soda Lo – Project Assistant

If you would like to be added to our email list for future publications and events, or to learn more about the Democratic Order Initiative, please email pquirk@atlanticcouncil.org.