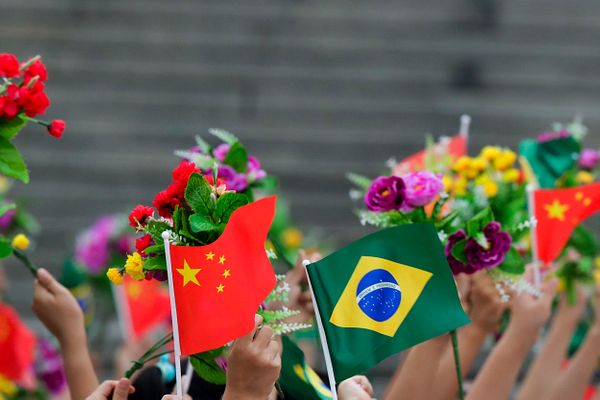 The Friction Points in Brazil-China Relations
Brazilian President Luiz Inácio Lula da Silva – commonly known as Lula – is in China this week for a four-day state visit, his first trip to China since retaking office on January 1. He was originally scheduled to visit Beijing in late March, but the visit had to be postponed when Lula contracted pneumonia.
A month ago, before Lula postponed his visit to Beijing, Professor Wang Youming from the China Institute of International Studies published a Global Times op-ed entitled "Lula Visits China, China-Brazil Relations will Become 'Politically and Economically Hot.'" Wang portrayed Lula as extremely admiring of the Chinese Communist model of development, a key champion for strengthening the BRICS mechanism, and a counterweight to US global hegemony.
Now that Lula is visiting Beijing and Shanghai this week, Wang's article provides a good glimpse of how China views Brazil as an indispensable Latin American partner, and its future aspirations for bilateral relations with Brazil. But Wang's rosy assessment of the pending meeting between Lula and Chinese leader Xi Jinping in particular, and Brazil-China relations in general, ignores important tensions that can hinder cooperation between these two country leaders.
First, Wang explained how much Lula admires China, calling him an "old friend of the Chinese people." This will be Lula's fifth visit to China, Wang pointed out, adding that every time he visited China previously, Lula witnessed the country's "grand accomplishments in development." He "admired from the bottom of his heart" China's "precise aid to the poor, infrastructure construction, public education and high technology."
Wang even quoted Lula as once saying "I and (Brazil's) Labor Party really respect the Chinese Communist Party" for creating this "grand miracle. It's really amazing. I hope to learn from the experiences of the Chinese Communist Party." These statements reinforce the domestic Chinese narrative that other countries like Brazil look to China for leadership and yearn to emulate the Chinese Communist Party to achieve economic miracles.
Under Lula's previous stint as president, China surpassed the United States as Brazil's top trading partner in 2009, and bilateral trade has increased 21 times since Lula's first visit to China in 2004. Just weeks ago, the two countries agreed to settle trade and investment in Yuan, another sign of Brazil inching closer to Beijing economically. During the current visit, Lula and his delegation are expected to sign over 20 bilateral agreements with China in a range of areas including agriculture, livestock, tech, and tourism.
But while Lula seeks to replicate China's economic success, he won't be so keen to simply play second fiddle as China's pseudo younger brother. He also wants to re-establish Brazil as a champion of environmental protection after years of deforestation of the Amazon during Jair Bolsonaro's reign. For this reason, he has an incentive to look tough on China, demanding that China do more to reduce greenhouse gas emissions and hold Chinese state-owned enterprises operating in Brazil and elsewhere accountable for damaging the environment.
Second, Wang focused on Lula's desire to work with China to strengthen the BRICS mechanism. According to Wang, Lula aspires to "remodel Brazil's international image" by playing a deeper role in BRICS. Lula believes BRICS has provided developing countries "opportunities that they haven't had in the past 500 years," and that BRICS represents the "rebalance" of the international system.
Wang added that the selection of former Brazilian President Dilma Rousseff to lead the BRICS New Development Bank further reflects Brazil's renewed focus on strengthening the grouping. During his China visit, Lula will attend Rouseff's inauguration in Shanghai. "To Lula, strengthening cooperation with China will help Brazil realize its global great power dream," Wang wrote.
However, BRICS may also be an arena of Brazil-China competition. During their summit, both Xi and Lula will likely extol BRICS as a successful framework for Global South cooperation. But while Xi may seek to claim economic leadership of BRICS, Lula will likely claim moral leadership on climate protection, as he demonstrated during COP27 last year.
Lula has also signaled that multilateral forums are the best way to maximize gains from China. For instance, earlier this year he urged Uruguay not to negotiate a bilateral free trade agreements with China. Instead, the regional trade bloc Mercosur would be better able to negotiate more favorable terms with the world's largest economy, especially after Mercosur finishes a trade deal with the EU to boost leverage. Lula could potentially use that same approach through BRICS, counterbalancing China's needs or proposals by building partnerships with India, Russia, and South Africa.
Third, Wang categorized Lula's policy toward the United States as "distant, but not far away" and "pragmatic cooperation." He described Lula as a "moderate" leftist, adding that "while leading regional left-wing countries to 'de-Americanize' and realize Latin American strategic autonomy," Lula also "positively improved US relations on the basis of respecting sovereignty and mutual equality". ."
Wang contrasted Lula with Bolsonaro, the former president who he said openly coordinated with the Trump administration to restrict huawei 5g technology in Brazil and "shift the blame" of COVID-19 to China. Instead, Lula won't "choose sides," "encircle" or "restrict" China, according to Wang. Lula's refusal to provide weapons to Ukraine and his proposal to form a BRICS "peace club" to help mediate an end to the Russia-Ukraine both show his commitment to neutrality, according to Wang. Indeed, Ukraine will certainly be a topic on Lula and Xi's agenda, as both leaders have positioned themselves as potential mediators of the conflict.
Wang averred that Lula will change Brazil's previous China policy from "Politics-Cold, Economics-Hot" to a "Politics-Economics Both Hot" policy. That means both countries will continue to deepen their "comprehensive strategic partnership" focusing on three areas: 1) transitioning from traditional areas of trade to advanced technology, the green economy, and the digital economy; 2) increasing China's engagement with Latin America as a whole; and 3) strengthening Brazil-China strategic cooperation in global governance, promoting multilateralism and a "fairer, more rational new international order."
Thus far into his presidential term, Lula has indeed demonstrated a balanced approach towards the United States and China. Despite initial concerns that Brazil–US relations would diminish after Lula's election, bilateral relations have largely continued as usual; Lula visited President Joe Biden in February and both leaders confirmed their commitment to strengthen democracy, respect human rights, and address the climate crisis.
Regarding China, Lula has a multi-dimensional balancing act: He needs to attract more Chinese investment in renewable energy projects and boost exports to China's large market, but he also needs to demonstrate to the Brazilian people that increased engagement with China won't lead to deindustrialization, loss of local jobs to Chinese workers, or environmental degradation, as some local Brazilian critics have charged. Lula's recent domestic approval ratings, while higher than its predecessor, are lower than its previous terms; the outcome of Lula's China visit could impact those ratings.
In short, Wang Youming's assessment of Lula's fifth visit to China and the future of Brazil-China relations is, at best, overly optimistic. We will more likely see Lula seek to maximize trade and investment with China, continue Brazil's role as a global vanguard against climate change, and use multilateral fora like BRICS to maintain neutrality in the era of strategic competition. As Brazil prepares to host the G-20 summit in 2024its role as mediator between the United States and China will be on full display to the world.