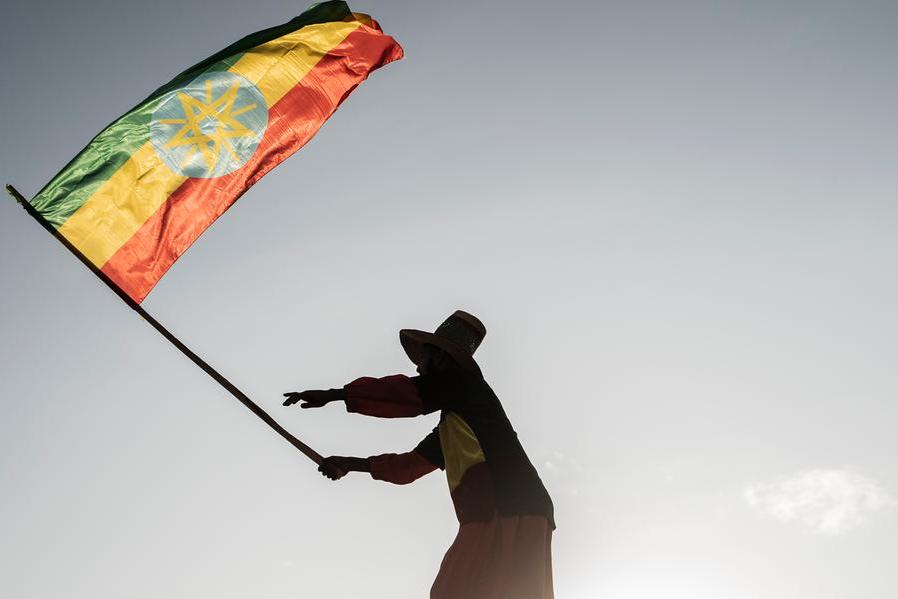 The state of play: six months after Tigray peace deal
Ethiopia's government and Tigran's officials signed a surprise "cessation of hostilities agreement" on 2 November to end the two-year war that inflicted a devastating human toll.
Against all expectations and six months in, progress has been made in implementing an agreement that, according to one diplomat, no one believes will work.
The guns have fallen silent and humanitarian aid is being restored in the stricken region of Tigray, but many challenges remain to consolidate peace.
– A 'positive dynamic' –
Despite the ferocity of fighting between pro-government forces and the Tigray People's Liberation Front (TPLF), observers noted the goodwill of both sides to execute the agreement, albeit with delays.
A second diplomat said, "Both sides accept that the deadline was untenable and agree that it should not be a reason to block (implementation)."
"The dynamic is positive," said geopolitical researcher Patrick Ferras.
"Both the parties are quite honest and the implementation is quite speedy," he said, acknowledging that "such issues cannot be resolved in five months".
Benjamin Petrini, research fellow at the International Institute for Strategic Studies in Washington, warned about the "opacity" of the process.
But he highlighted several positive developments since the accord was signed in Pretoria.
"The ceasefire is almost complete. Restoring services to Tigray and bringing external aid are also major achievements," he said.
Ethiopia's government still restricts journalists' access to Tigray, but power and communications have been restored in the main urban centers, according to two people who visited recently.
However, power cuts are frequent and large areas remain without mobile phone service. Access to cash is also very limited outside Tigray's capital, Mekelle.
Relations between Addis Ababa and Tigray are improving. An interim regional administration led by the TPLF was established after the group was removed from the list of "terrorist" organizations, and the federal government is helping finance the regional budget.
– An unknown: the scale of disarmament –
The African Union Monitoring Mission confirmed in mid-January that the TPLF had begun to surrender heavy weapons. The process is ongoing but the scale of the disarmament is unclear.
The first diplomat said, "The AU mission estimates that between 60 and 80 percent of heavy weapons have been recovered. In reality we don't know for sure."
"When it comes to light weapons, it is complicated to completely disarm the TPLF in a country with an abundance of small arms."
As well as disarmament, the agreement called for the withdrawal from Tigray of foreign troops and non-federal forces – seen as a reference to Eritrea's military and paramilitaries from the neighboring Amhara region.
Both played a key role in supporting the Ethiopian army on the battlefield but were not invited to the Pretoria talks.
Eritrean troops have been largely withdrawn from Tigray, but have a less significant presence in border areas, alleging some of the worst wartime atrocities, according to a diplomat.
The Amhara army still controls western Tigray, a disputed territory claimed by both Amharas and Tigreans and a potentially dangerous flashpoint.
– Resume help, but not enough –
About 90 percent of Tigray's six million people, who were largely cut off from the outside world during the conflict, rely on humanitarian aid.
Although northern Ethiopia is now more accessible, aid has not yet reached the level needed, the UN humanitarian agency OCHA said in April.
"Many residents still say they are going hungry," said a humanitarian source.
Jude Fuhanwi, spokesman for the International Committee of the Red Cross in Ethiopia, warned: "The state of emergency remains not only in Tigray but also in neighboring Afar and parts of Amhara.
"Emergencies linked to malnutrition, destroyed health infrastructure, sexual violence, displacement and conflict-injured persons are particularly grave."
– challenges ahead –
The scale of the destruction is immense after a conflict that the US says killed nearly half a million people.
"It will take at least 10 years to rebuild Tigre the way it was built before November 2020… (but) with what money?" Feras said.
Tigray's once efficient health system is on its knees, and according to OCHA, 85 percent of schools have suffered severe or partial damage.
All warring parties face allegations of atrocities that could amount to war crimes and crimes against humanity, and the international community and rights campaigners are calling for the perpetrators to be held accountable.
"How should the country and society move forward from this extremely destructive war?" Petrini said.
"Institutional mechanisms to ascertain responsibility for war crimes, as well as nationwide reconciliation initiatives, are needed."
While Addis Ababa is setting up a transitional justice process, "there is a strong temptation by both sides to sweep these crimes under the carpet", said the first diplomat.
Ferras said that the issue of Western Tigray is unsolvable and "risks being put off indefinitely".
Elsewhere, Africa's second most populous country – a mosaic of more than 80 ethnic groups – is grappling with a number of regional conflicts and challenges to its unity and stability.
Last month, violent protests broke out in Amhara over moves by the federal government to disband various regional paramilitary forces in Ethiopia that had been operating illegally for years.
"A serious security area is in need of reform," Petrini said.
"And given the situation in Sudan, reining in regional security forces is the area that will decide whether Ethiopia can move towards peace and an updated political settlement."
,