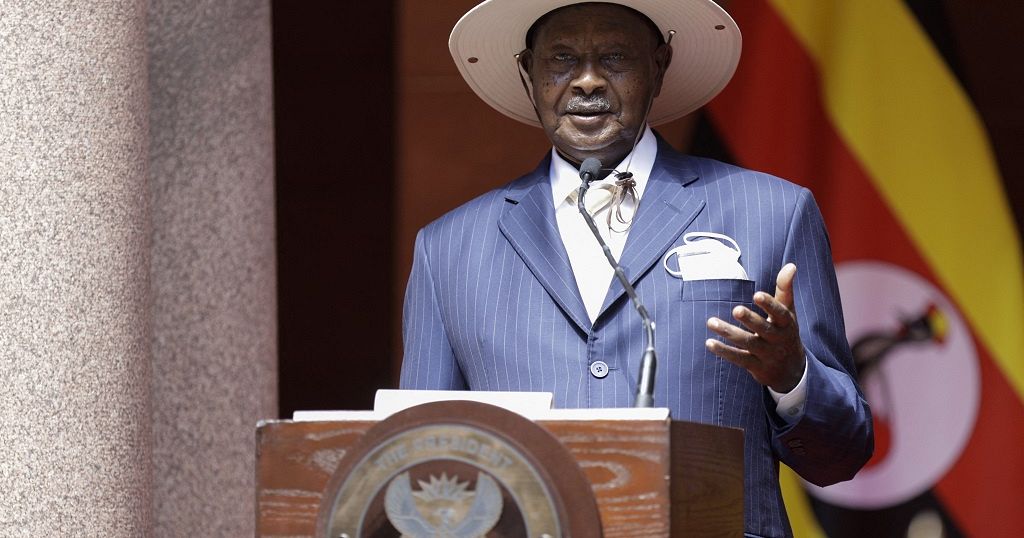 Uganda says 54 of its AU soldiers killed in May 26 Somalia attack | Africanews
Uganda announced that 54 soldiers were killed in Somalia on May 26 in an attack by radical Islamist Shebaab against an African Union (AU) base in the country, the deadliest in recent months.
An attack on an AU force base in Somalia (Atomis), run by Ugandan troops, was launched at dawn using car bombs and suicide bombers in Bulo Marer, 120 km south-west of the capital Mogadishu, followed by clashes Hua automatic weapon.
Al-Qaeda-affiliated Shabaab, which has been running a bloody insurgency in the country for fifteen years, claimed responsibility, claiming to have "captured" the base and caused many casualties.
Neither Atomis nor Mogadishu gave an exact death toll, reported by Ugandan President Yoweri Museveni on Saturday evening.
"We found the dead bodies of 54 soldiers, including a commander," Mr Museveni announced in a statement posted on his official Twitter account. It was one of the deadliest attacks since the Atmis-backed Somali government launched an offensive against Shabaab last September.
Two days after the attack, Mr. Museveni expressed his condolences to the families of the soldiers killed, acknowledging that there had been casualties, and said that "all the facts" would be "made public".
Mr Museveni attributed the heavy losses to poor decisions by two officers who were alarmed by the attack by "800 terrorists" and ordered their troops to retreat.
These officers "did not react as expected and panicked, which disorganized them, and Shebaab took advantage of this to invade the base and destroy some equipment", Mr Museveni said, adding that two People will have a court-martial for their activities.
Despite this, "our troops showed remarkable resilience and reorganized themselves, which enabled them to retake the base," he said.
A Somali army commander told AFP of "violent fighting" before the Shabab retreated in the face of reinforcements sent by Atmis, including helicopter gunships.
The attack was condemned by the United States and the European Union.
– Violence and drought –
The Shabaab have been fighting the Somali government and its international allies to establish Islamic law in the Horn of Africa.
To counter them, in 2007 the African Union deployed a force made up of soldiers and police from Uganda, Burundi, Djibouti, Ethiopia and Kenya, called AMISOM and authorized by the United Nations Security Council.
Atomis took over from Amisom in April 2022 with a more aggressive mandate, and aims to hand over full responsibility for the country's security to Somali forces by the end of 2024.
Driven out of the main towns in 2011–2012, Shabab remains firmly entrenched in vast rural areas.
In May 2022, they launched a major offensive against the Atmis base operated by Burundian troops north of Mogadishu. Neither Somali officials nor the AU gave a figure, but Burundian military sources told AFP that 45 soldiers were killed or missing.
After returning to power in May 2022, Somali President Hassan Sheikh Mohamad declared "all-out war" against the Shebaab and launched a military offensive supported by Atomis and US airstrikes.
In September, the Somali president sent troops to support local clan militias who had risen against him in the center of the country.
The army and these militias, known as "Macavisli", have recaptured large swaths of territory from Shebab, supported by Atmis and US airstrikes.
Despite these setbacks, Shabaab has continued to carry out deadly attacks, including in the heart of cities and military installations. On October 29, 2022, two car bombs exploded in Mogadishu, killing 121 people and injuring 333, the deadliest attack in the country in five years.
In a report to the UN Security Council in February, Secretary-General Antonio Guterres claimed that 2022 would be the deadliest year for civilians in Somalia since 2017, mainly due to Shebaab attacks.
At the same time, the country, like its neighbors, is experiencing a devastating drought, the worst in at least four decades.
The United Nations estimates that almost half of Somalia's population will need humanitarian assistance this year, with 8.3 million people affected by the drought.