UN condemns 'inexcusable' deadly airstrikes in Ukraine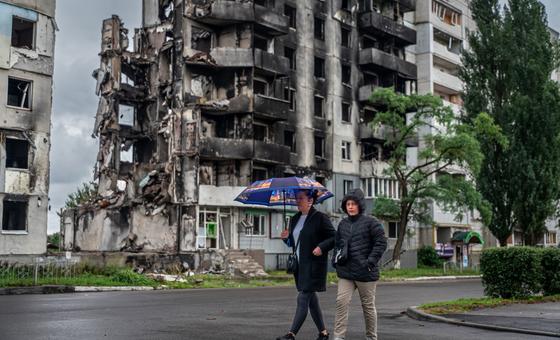 Dozens of civilians across the country were killed and injured, and homes and other vital infrastructure, destroyed. 
More than 20 people were killed in the small central city of Uman alone, when their apartment building collapsed after it was hit, according to international media reports. 
'Inexcusable' attacks 
"It is just inexcusable that in places like Uman, far from the frontline, civilians were killed while sleeping at their homes. This must stop," Mr. Hollingworth wrote on Twitter. 
Catherine Russell, Executive Director of the UN Children's Fund (UNICEF) also took to the platform to denounce the bloodshed. 
"At least three children were reportedly killed in an attack on Uman, Ukraine today, including two 10-year-old children and a toddler. A three-year old was reportedly killed in Dnipro. War is the worst enemy of children. The violence must stop," she tweeted. 
Not a target 
In New York, UN Spokesperson Stéphane Dujarric noted that deadly attacks were also reported in Donetsk city, capital of the eastern region of the same name, and currently under Russian control. 
Authorities there said several civilians were killed and injured when a bus and hospital in the city centre were struck. 
"It is an important reminder that civilians and civilian infrastructure are protected under international humanitarian law and they must never be targeted, wherever those facilities may be," Mr. Dujarric said.   
Delivering critical supplies 
As a result of the increased fighting and violence, humanitarian needs are deepening in Ukraine, and the UN and partners are trying to provide as much assistance as possible.  
"Since January, we have organized almost 40 humanitarian convoys to areas as close as a couple of hundred meters from the frontlines," he said. 
On Friday, humanitarians delivered six truckloads of critical supplies to the 3,000 people remaining in communities around Lyman, in the Donetsk region, which included medical supplies and enough food to last for three months. 
Earlier this week, they reached the city of Orikhiv, located just 10 kilometers from the frontline in the Zaporizhzhia region, and delivered water, hygiene and shelter kits for some 1,600 civilians, mostly older people. 
Mr. Dujarric told journalists that these residents have been sheltering in basements to keep safe from shelling, and lack access to markets, electricity, piped water and gas, which is make life more difficult.