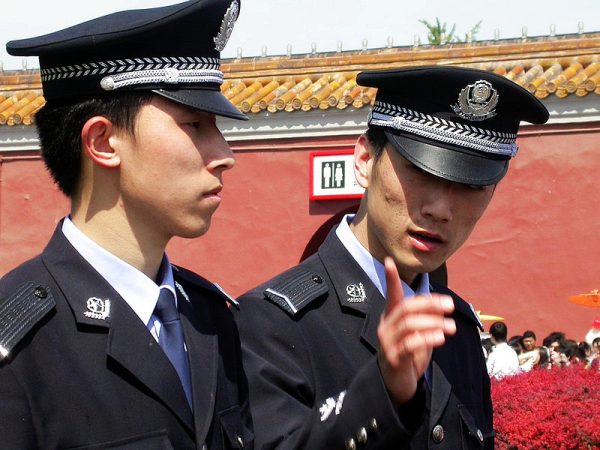 What Are China's Alleged 'Secret Overseas Police Stations'?
Police in New York have arrested two men for allegedly setting up a secret police station for a Chinese provincial police agency to collect information on opponents of the ruling Communist Party.
Such offices have been reported across North America, Europe, and in other countries where Chinese communities include critics of the Communist Party who have family or business contacts in China. China denies that they are police stations, saying that they exist mainly to provide citizen services such as renewing driver's licenses.
Party leader and head of state Xi Jinping has waged a campaign against corruption that has also targeted criticism of his regime at home and abroad, while seeking to chase down those accused of financial crimes.
The arrests Monday in New York came alongside charges against 34 officers with China's national police force in China for using social media to harass party critics in the United States, authorities said Monday.
The two men who were arrested were acting under the direction and control of a Chinese government official, the Justice Department said in a statement Monday.
The arrests of the men, identified as "Harry" Lu Jianwang, 61, of the Bronx, and Chen Jinping, 59, of Manhattan, both US citizens, are the first of their kind anywhere in the world.
The two did not register with the Justice Department as agents of a foreign government, US law enforcement officials said. And though the office did perform some services such as helping Chinese citizens renew their Chinese driver's licenses, it also served a more "sinister" function, including helping the Chinese government locate a pro-democracy activist of Chinese descent living in California and threatening a fugitive. whom the police wanted to return to China, officials said.
On Tuesday, Foreign Ministry spokesman Wang Wenbin said there was "no such thing as an overseas police station," and accused the United States of "smears and political manipulation."
"China firmly opposes the smear and political manipulation by the US, who maliciously fabricated the narrative of so-called cross-border suppression and blatantly prosecuted Chinese law enforcement officials," Wang said.
China's Foreign Ministry says it operates the centers abroad to help citizens with bureaucratic tasks, such as renewing drivers' licenses, that are typically done at police stations in China.
But the Spain-based nongovernmental group Safeguard Defenders accused Chinese police of using the offices to spy on critics abroad and to harass or threaten both citizens and non-citizens in a report published last year.
A Chinese official claimed last year that 210,000 suspects of fraud were "persuaded to return" to China in 2021 as part of a crackdown on telephone scams, although the researchers wrote that not all were charged with crimes. Countries including Canada and Ireland asked China to close such stations or opened investigations of their own following the Safeguard Defenders report.
According to prosecutors in New York, the station in New York was operated by the Fuzhou branch of the Ministry of Public Security; they wrote that it had no authority to operate there and infringed US law and national sovereignty. Countries are required by international treaty to inform each other of when and where they operate their diplomatic missions.
In a February 2002 news release, the government of Fujian province – where Fuzhou is the provincial capital – said it had established a first batch of 30 "Fuzhou Police Overseas Service Stations" on five continents. The province has traditionally sent waves of migrants to Southeast Asia, North America, Australia, and Europe.
Scores of service offices – Safeguard Defenders estimates more than 100 – have been reported around the world, from Canada to New Zealand. Some are based in embassies, while others have operated out of commercial centers frequented by members of the Chinese diaspora.
In Italy, Chinese police made an agreement with the government in 2016 to conduct joint patrols with local police to assist Chinese-speaking tourists. Italy ended the program last year following the Safeguard Defenders report.
China-US political relations are at a historic low. In February, the United States canceled a visit by Secretary of State Antony Blinken to Beijing amid a furor over a Chinese spy balloon that overflew the US. Suspicion of China is one of the few areas where the Democratic and Republican parties find common ground, and the Accusations of illegal Chinese police stations will likely galvanize sentiment for banning of Chinese brands such as Huawei and TikTok.
It's not clear if China will seek the release of the two men arrested in the United States, who are both US citizens. China has in the past been accused of hostage diplomacy, including imprisoning two Canadian nationals over the detention of a top executive of the electronics giant Huawei.