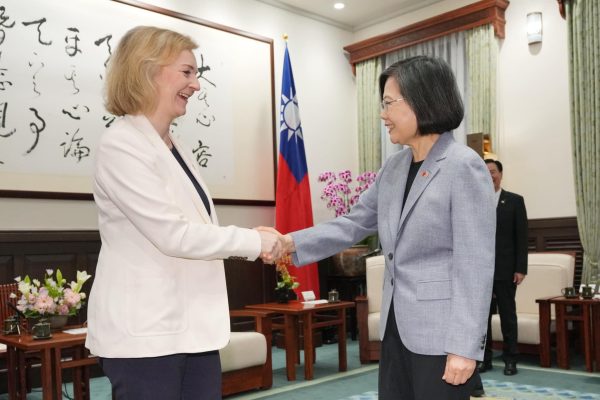 Why Did Liz Truss Visit Taiwan?
It is 400 years since Dutch rule in Taiwan but Taipei risks turning its quest for visibility into a Dutch Auction of fading Western politicians as it attempts to counter Beijing's intimidation and haemorrhaging of formal diplomatic support in recent years.
Liz Truss – the short-lived Conservative prime minister who tanked the U.K. economy in a matter of days and was unceremoniously sacked – visited Taiwan this week at the invitation of the independence-leaning think tank, the Prospect Foundation. On Wednesday, she delivered a speech entitled "Taiwan: On the Frontline of Freedom and Democracy."
The trip shows the readiness of some Western politicians to use Taiwan as a stick to beat China with. Such visits diminish public understanding of Taiwan's contested political status. They risk coming across as circus acts by upstaging unofficial diplomacy. They obscure the official Taiwan policy of Western powers. In legitimizing Taiwan's sovereignty, such visits influence broader elite attitudes in the West.
The response from Beijing has been dismissive. In an interview with the BBC, Chinese Communist Party (CCP) spokesperson Victor Gao scorned the idea that Truss could provoke a show of Chinese strength like the one seen after then-U.S. House Speaker Nancy Pelosi's visit. "I think she is not impactful or consequential at all by any stretch of the imagination," was his scathing assessment.
The U.K. government, sectors of the Conservative Party, and even a U.K. press that is generally supportive of Taiwan have called for a more prudent approach.
The Conservative chair of the U.K. Parliament's Foreign Affairs Select Committee, Alicia Kearns – a China hawk herself – called Truss' visit "performative, not substantive" and "the worst example of Instagram diplomacy." Kearns said the visit was "deeply unhelpful because it escalates the normal situation in Taiwan" where people already suffer more Chinese provocation because of Pelosi's visit. "Liz Truss doesn't have any influence anymore – this is more about keeping herself relevant," she said.
A Foreign Office statement on the matter was impassively diplomatic: "We wouldn't get involved in the independent travel decisions of a private citizen who is not a member of the government."
Truss' Speech in Taiwan
As expected, Truss' speech placed Taiwan in the crosshairs of China's confrontation with the West and its liberal values. She framed Taiwan's predicament as a battle for "freedom and democracy" in the face of Beijing's "authoritarianism" and economic threat. In doing so, her remarks played fast-and-loose with the boundaries of U.K. policy and that of Taipei itself. While she avoided explicit statements on Taiwan's political status vis-à-vis China, she presented provocative proposals that on more sober reflection are non-starters. These included ditching the United Nations and the World Trade Organization (one of the rare international organizations Taiwan belongs to) as diplomatic fora in which to talk about Taiwan, an economic alliance against China, concrete military support for Taiwan from the U.K., and – curiously – a role for presumably unqualified Taiwanese residents in the U.K. to provide free Mandarin classes in place of Beijing's Confucius Institutes.
In talking about security, Truss conflated international cooperation on the Indo-Pacific with cross-strait relations. She weaved in-and-out rhetorically, while ensuring a degree of plausible deniability if challenged on whether Taiwan should be a full partner in these measures.
The U.K.'s interest in the defense of liberal democracy against the economic and political threat of China, with Taiwan as the potential catalyst for a showdown, was the overriding theme of Truss' speech. As such, it was familiar territory for Taiwan watchers. What stood out was the lack of caution around the proposals.
Taiwan is "on the frontline of the global battle for freedom" against "a totalitarian regime" that is "trying to silence Taiwan's supporters and intimidate people internationally," Truss said.
"Free nations" must commit to a "free Taiwan" through a "network of liberty" and an "economic NATO" that "supports freedom and proper free enterprise" to counter Beijing's "authoritarianism." Such "meaningful deterrence" requires "hard power," Truss said, and "we need to get real about defense cooperation."
The U.N. Security Council and the WTO provide no solutions, Truss claimed: "we cannot rely on the World Trade Organization to make sure fair-trade rules are in place. That's why we need other alternatives to get things done." As such, the G-7 states, other EU members, Japan, South Korea, and Australia should work against Chinese economic "bullying on a major scale" to fast-track Taiwan into the Comprehensive and Progressive Agreement for Trans-Pacific Partnership (CPTPP). This is not a task for the U.K. alone; a coalition of allies was needed. For backup, Truss highlighted the 2021 Integrated Review – which the government has since sought to revise – as setting out "a new approach to dealing with the challenge which China presents for the U.K. and the wider world."
In sideswipes at the U.K. and the EU, Truss rebuked European nations for being "completely irresponsible" in ignoring Taiwan. "Without freedom and democracy there is nothing else," she asserted, saying there were "too many mixed messages from the free world" based on a desire to cooperate with China on some issues. Urging U.K. Prime Minister Rishi Sunak to revert to his position that China was "the biggest-long term threat to Britain" and rule out economic dialogue, Truss said, "there are [no] bigger issues than Chinese global dominance" and asserted that China is the biggest state-based threat to the U.K.'s economic security.
The Chinese Communist Party's record over Tiananmen, Xinjiang, and Hong Kong shows what will happen if Taiwan unifies with China, Truss told reporters afterwards, adding that "it's absolutely clear that President Xi has the ambition to take Taiwan." While acknowledging Beijing sought a peaceful takeover, "I certainly think they would be prepared to use force if necessary," she added. Taiwan's government is "best placed to understand what will help" when challenged on the threat to the island's security, she concluded.
Tories Talking Tough on Taiwan
Truss' portrayal of Alicia Kearns' criticism of her visit as "petty" politics points to intra-party jostling for power. Given that Kearns is prominent in the China Research Group – a grouping of Conservative China hawks – this also suggests that Conservative support for Taiwan is more a function of their hawkishness on China than concern for Taiwan's liberal democracy and separate identity.
One China Research Group member, Iain Duncan Smith, who successfully halted Huawei's involvement in the U.K.'s 5G network, was openly supportive of Truss' visit. Another, Bob Seely, saw Truss' visit as a "battle for civilization, between free and open societies and closed and oppressive ones." Another member, Tom Tugendhat, has been active in giving a voice to Taiwanese ministers.
Other Tory MPs say Truss' Taiwan comments have frightened people and undermined her credibility. Last summer, as part of the Conservative leadership race, Truss caused alarm when she suggested the U.K. should arm Taiwan so "it has the ability to defend itself."
The Prospect Foundation, the Taiwanese think tank that invited her, says Truss has long been a friend of Taiwan. Yet her name does not appear in the list of members of the British-Taiwanese All-Party Parliamentary Group (APPG), the cross-party organization that has for many years conducted low-key informal contact with the island. The group is mostly Conservative in membership, with a smaller number of Liberal Democrat and Labor MPs.
Serving ministers avoid visiting Taiwan, but some MPs have visited informally and as part of delegations. In March 2023, the APPG visited Taiwan and met with President Tsai Ing-wen and the Ministry of Foreign Affairs. Led by Bob Stewart, a Conservative former British Army colonel, this was the second visit by U.K. legislators after the House of Commons Foreign Affairs Select Committee visited in November 2022. The delegation called for the U.K. government to give "as much help as possible" to help Taiwan defend itself against China at a time "when authoritarianism continues to expand globally."
The U.K.'s Policy Position 
The U.K.'s official Taiwan policy should not be confused with the informal links described above. The U.K. has walked a fine line on Taiwan since it switched diplomatic recognition from Taipei to Beijing in 1950, while managing to maintain a consulate in Taiwan until the People's Republic of China (PRC) exchanged ambassadors in 1972.
In establishing diplomatic relations, a China-U.K. agreement "acknowledged the position of the government of the PRC that Taiwan was a province of China and recognized the PRC Government as the sole legal government of China." This U.K. policy was restated in a House of Lords debate in July 2020:
The United Kingdom's long-standing policy on Taiwan has not changed. We have no diplomatic relations with Taiwan, but a strong unofficial relationship based on dynamic commercial, educational and cultural ties. We regularly lobby in favor of Taiwan's participation in international organizations where statehood is not a prerequisite, and we make clear our concerns about any activity that risks destabilizing the cross-strait status quo. We have no plans to recognize Taiwan as a state. 
The U.K.'s diplomatic presence in Taiwan is maintained through the British Office Taipei, which "promotes trade, investment, innovation, culture, education and other links between the U.K. and Taiwan" and "provide[s] practical assistance to British nationals in Taiwan."
The U.K. is "well-disposed" to Taiwan "based on deep and growing ties in a wide range of areas and underpinned by shared democratic values." For the U.K., Taiwan's political status should be resolved "through dialogue, in line with the views of the people on both sides of the Taiwan Strait."
Friendly contact between the U.K. and Taiwan focuses primarily on trade and education in the fields of renewable energy and Taiwan's English language education, teaching and assessment. In 2020, the U.K. ran a trade deficit with Taiwan, which is its 39th largest export market. Compared to China, trade with Taiwan is negligible.
The 2021 Integrated Review drew Taiwan into the ambit of the U.K.'s foreign and defense policy toward the Indo-Pacific and the Royal Navy sent warships through the Taiwan Strait in 2008 and 2021. However, the government insists "the U.K. has no defense ties with Taiwan."
Recent shifts in China-U.K. relations, increased Chinese threats to Taiwan under Xi Jinping, and Taipei's efforts to increase its international visibility have brought Taiwan more into focus in a flurry of policy documents. In September 2021 a U.K. government report saw conflict over Taiwan as the most "dangerous risk that faces the U.K. in terms of its relationship with China." Managing this risk through "maximum use of its diplomatic and soft power" was to become the U.K.'s "strategic priority."
Conclusion
U.K. Taiwan policy, like that of other powers, seeks to manage the situation between Taiwan and China as far as possible, given the constraints. It is to this policy that Taiwan watchers ought to look for clues rather than off-message statements from individual politicians.
Truss' proposals are unlikely to gain traction. Her legacy and approach are toxic to many, and she is using Taiwan to snipe at sectors of the U.K. Conservative Party and government. Unlike government policy statements, Truss' statements, like those of Pelosi, need to be seen in the light of domestic political jockeying. This diminishes her message and risks turning Taiwan into an internal Conservative party issue.
Truss' reputation means her proposals lack credibility in U.K. policy circles. The U.K. has no appetite for an economic NATO in the Indo-Pacific and it would find few local allies. As for a military alliance, any inclusion of Taiwan would breach Beijing's red lines for military intervention and the U.K. cannot make a move independently of the U.S.
Taiwan may get consolation from Truss' speech but her proposals also expose the harsh realities of Taipei's international isolation. Having said that, next year's elections in Taiwan could herald the return of a more China-friendly KMT administration, which, if the 2008-2016 administration's experience is anything to go by, could soften Beijing's approach to Taiwan.
A paradox exists in U.K. and international support for Taiwan's democracy. That is, despite the much-vaunted progressiveness of Taiwan's DPP administration, support for Taiwan among Western legislators comes mostly from the center-right and is "liberal" in the classical and European sense in that it highlights "liberty" over "equality." It has also absorbed a tradition of knee-jerk anti-Communism from the old Chiang Kai-shek-championing Free China lobby and merged it with opposition to China's new nationalism as embodied in the CCP rather than the KMT.
This support is further complicated by the reality of Taiwan's more state-guided economy. As Taiwan watchers know, much as Singapore never lived up to Thatcherite dreams of free-booting capitalism, Taiwan is nowhere near the free-market neoliberal paradise Truss envisioned for the U.K.
Self-promotion aside, Truss' solidarity with Taiwan's liberal democracy appears to be a crude attempt to act as cheerleader for Western balancing of China using Taiwan as a proxy. Taipei knows this. But "any port in a storm" when there's a typhoon in the Taiwan Strait, Taipei might reasonably say.