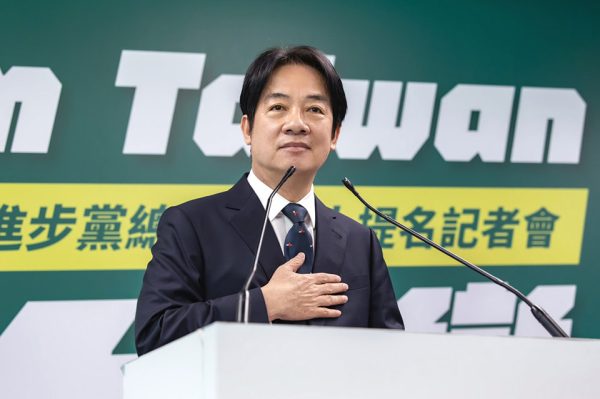 With DPP's Candidate Pick, Taiwan's 2024 Presidential Race Begins
Taiwan's presidential race is starting to heat up, with the ruling Democratic Progressive Party tapping Vice President William Lai as its candidate. Lai's selection was not a surprise; he ran unopposed to replace current President Tsai Ing-wen as the DPP chair when Tsai stepped down to take responsibility for the party's drubbing in the November 2022 local elections. (Tsai, having served two terms, cannot run for re-election.)
If Tsai is often billed (unfairly) as a "pro-independence" politician, Lai has more claim to the title. As Brian Hioe wrote for New Bloom Magazine, during Lai's stint as mayor of Tainan, "Lai was seen by many as having a stance strongly supportive of Taiwanese independence," based on public statements by Lai that he was a "Taiwanese independence activist." However, Lai moderated his position to come in line with Tsai's pro-status quo stance upon joining her administration – first as premier, then as vice president.
In between serving as premier and VP, though, Lai ran against Tsai for the DPP's nomination in 2020, largely because she thought she should be more forward-leaning in pushing back against China. He had support from the faction of the DPP that wants a more forward-leaning response to China – and a more vocal stance on Taiwan's independence.
Lai's ties to the "Deep Green" faction of the DPP could potentially alarm even close allies like the United States – which held the previous Chen Shui-bian administration firmly at arm's length due to Chen's dalliance with a formal push toward Taiwan independence. Admittedly, however, the early 2000s was a very different time for US Taiwan policy, and US China policy, for that matter.
Lai attempted to thread the needle in his acceptance speech between reassuring potentially nervous observers at home and abroad and not alienating the party's base. He emphasized that Taiwan has "NO [sic] need to declare independence" – but only because Taiwan "is, in fact, already a sovereign nation." He categorically dismissed the idea that Taiwan is "part of 'the PRC's scared and unalienable territory.'" And Lai also emphasized that "the vast majority of Taiwanese people" don't accept either the "1992 Consensus" or China's "one country, two systems" framework for unification.
Rather than shying away from the question of China policy, Lai is very much framing this election around cross-strait relations and foreign policy.
Lai contrasted Tsai's recent trip abroad – including two stopovers in the United States – with former President Ma Ying-jeou of the Kuomintang (KMT)'s simultaneous trip to China. "The two trips could not have been more different in their significance and the values ​​they reflect," Lai intoned. "Former President Ma intended to re-subject Taiwan to the One China framework. President Tsai, meanwhile, marched towards a democratic and international future."
He is clearly trying to foreground cross-strait and foreign affairs in the 2024 elections, hoping to capitalize on the KMT's image as the "pro-China" party – and thus less willing and able to defend Taiwan's sovereignty and democracy.
"The election next year will determine Taiwan's future, the continuation of our democratic system, the welfare of our future generations, and the stability and peace of the Indo-Pacific region," Lai said.
Heading off the KMT's usual criticism that the DPP's cross-strait policies have actually endangered Taiwan by provoking China, Lai insisted that "The 2024 election is NOT a choice between 'war' and 'peace,' but one between 'democracy' and 'authoritarianism' .'"
By contrast, the KMT will try to keep the focus on bread-and-butter issues, as the DPP faces lower approval ratings when it comes to domestic policies. That was a major factor behind the KMT's victories in the 2022 local elections, which are usually dominated by domestic concerns. As Hioe noted for The Diplomat, "the DPP did not handle domestic issues such as low salaries, affordable housing, and Taiwan's demographic woes with a declining birthrate and growing elderly population to voters' satisfaction. As a result, the DPP was punished for it" in the local polls.
Meanwhile, China's government is becoming more obvious about attempting to tip the scales against the DPP by centering exactly those kinds of internal concerns. At a Taiwan Affairs Office (TAO) press conference on April 12 – the same day Lai received the official nod as presidential candidate – an unnamed reporter asked a leading question about the DPP's supposed deficiencies in providing for Taiwan's people. The reporter claimed that since the party took power Taiwan has suffered shortages of water, electricity, land, workers, human resources, eggs, and medicine, and simply asked for comment.
TAO spokesperson Zhu Fenglian, replied that "DPP leaders, in pursuit of their own personal gain, are preoccupied with political fighting, and neglect the needs of the people's livelihood," which Zhu said resulted in a laundry list of economic ills on Taiwan: " backward" infrastructure, unbalanced economic development, a widening wealth gap, a shortage of basic necessities, and sharp inflation.
Zhu added that the DPP's cross-strait policy – ​​which she described, in typical fashion, as "colluding with external forces to scheme toward 'independence' provocation" – was the biggest obstacle to Taiwan's economic development. "Without a stable situation in the Taiwan Strait and the peaceful development of cross-strait relations, Taiwan cannot have a stable and beneficial environment for investment and business," Zhu said. "That will directly affect the island's internal economic development and the interests of the people of Taiwan."
In other words, even China's government is trying to turn the focus to the DPP's handling of Taiwan's economy, exactly in line with the KMT's preferences. That sort of blatant favoritism, however, is not likely to help the KMT shake its "pro-China" image – which it will need to do to retake power at the national level.
The KMT will determine its candidate by June 18, with the process starting on April 18. So far, Terry Gou, the founder of Foxconn, has announced he will seek the nominationfollowing his unsuccessful bid in 2020. New Taipei Mayor Hou Yu-ih is seen as the frontrunner, though he has not officially announced his campaign yet.
This year, the KMT's candidate will be selected by special committee, rather than a presidential primary, as in the past. Many analysts see this as an attempt to avoid a repeat of the nomination of pro-China candidates like Hung Hsiu-chu (the party's original 2016 nominee) and Han Kuo-yu (the 2020 candidate), who were popular with the KMT's "Deep Blue" base but out of step with Taiwan's mainstream. The KMT lost badly in both the elections.