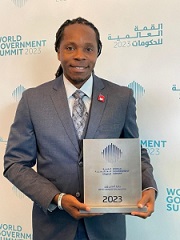 World Government Summit: Dr. David Sengeh of Sierra Best Education Minister
Sierra Leone's Minister of Basic and Senior Secondary Education, Dr. David Moinina Sengeh (photo) has received the Best Minister in the World award as part of the 10th edition of the ongoing World Government Summit in Dubai, United Arab Emirates.
With the theme: "Shaping the governments of the future", this edition was attended by political leaders, experts and innovators, during which they discussed possible ways to shape future government policies. There were three African presidents in the audience during the award ceremony.
According to the quote: "The award recognizes government ministers for promoting innovation within their domains by demonstrating excellence in the public sector, implementing successful reforms and enabling government leaders and service providers to better meet the needs of their citizens." recognizes the extraordinary efforts of
Dr Sengh was among ten other ministers who were named after a global due diligence conducted by PwC, which included public opinion through social media, a jury of international experts and prominent figures from international organizations and the private sector. involved in the selection of representatives. the winner. The award was presented by His Highness Sheikh Mohammed bin Rashid Al Maktoum, Vice President and Prime Minister of the UAE and Ruler of Dubai.
Soon after receiving the award, Dr. Sengh said he was excited that the recognition would help motivate school-going children in Sierra Leone and all other stakeholders in the education sector to do more. He said that the commitment of President Dr. Julius Maada Bio allowed him to fulfill his mandate with ease, adding that investment in Sierra Leone's education was aligned with the priority to ensure that the poor, The disabled, the vulnerable and even those in remote areas were all catered for.
"When everyone is involved and when we use technology to provide solutions for our students, everyone benefits and the system becomes better. So, as we address problems within the education system When we do this and address them, we must think about those who are most excluded because when we create a system that works for them, everyone benefits," he said.
Rashid Sesay, Ambassador of Sierra Leone to the UAE, who was also part of the event, emphasized that the recognition was a proud moment for every Sierra Leonean and a testament to the great efforts of His Excellency President Dr. Julius Maada Bio Was being recognized worldwide for providing education to all.
Other notable participants at this year's edition of the World Government Summit included His Highness Sheikh Mohamed bin Zayed Al Nahyan, President of the UAE, Macky Sall, President of Senegal, and President of the African Union, Abdel Fattah Al-Sisi, President of Egypt, Madam. Kristalina Georgieva, Managing Director of the International Monetary Fund and Madame Ngozi Okonjo-Iweala, Director General of the World Trade Organisation.